By Delinda Lombardo on
Look To The Stars reporter Delinda Lombardo attended Mia Hamm's massive celebrity soccer game during the weekend and caught up with some of the stars that took part.
The second annual Celebrity Soccer Challenge at the Home Depot Center in Los Angeles was a big success as Mia Hamm and Nomar Garciaparra were joined by a slew of celebrity friends who helped raise nearly $200,000 for the Children's Hospital Los Angeles and the Mia Hamm Foundation.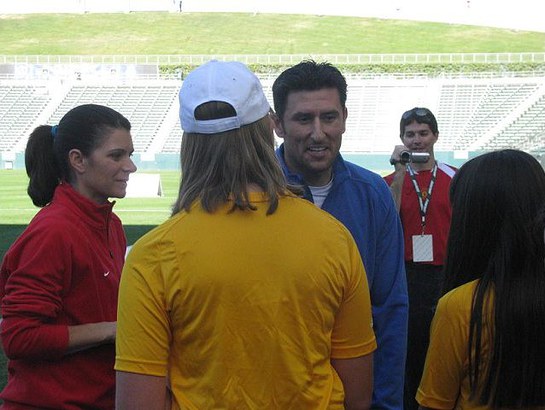 The event also encouraged fans in attendance to register for the National Marrow Donor Program Registry, a cause close Mia Hamm's heart after she lost brother Garrett to bone marrow disease.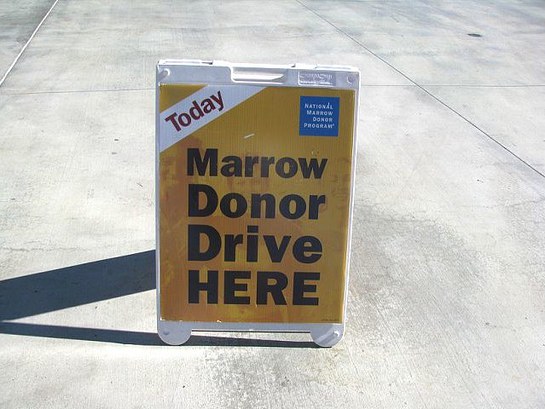 "My foundation started about 1999 and was motivated from my relationship with my brother who passed away in 1997 after complications from a bone-marrow transplant," she said prior to the game. "For us, we shared a love of sport and I also saw first hand what my parents and his parents had to go through, not just financially, but struggling to find a bone-marrow match, so [the proceeds from] my foundation go to help families find bone-marrow transplants and also to encourage and empower young female athletes."
During halftime, patients suffering from leukemia, lymphoma and other life-threatening diseases were introduced for the first time to their bone marrow donors.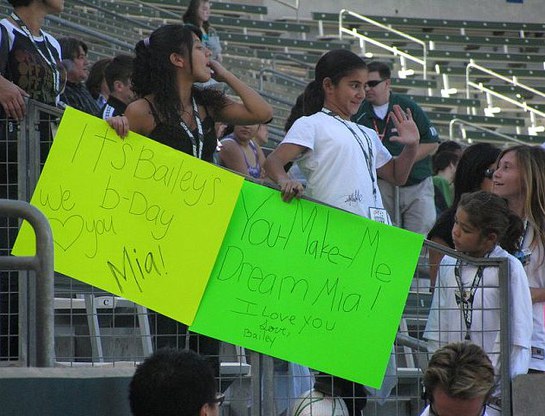 "The more the world becomes a melting pot, the more important it is for people to be registered, it's a gift that you can continue to give," Hamm said. "My brother was adopted, he was a minority and that was one of the big struggles. Nomar [her husband] is Mexican and that's another message we're trying to get out there, we're trying to get more minorities entered into the bank. Last years game we almost got 200 people and a match was found for someone who registered at the event, so it's so important to keep spreading the importance and raising money."
While Nomar Garciaparra earned bragging rights for scoring in overtime to give his team, Nomar United, an 8-7 win over Hamm's team, FC Mia, he never lost sight of what the event was really about. "We're here to have fun," Garciaparra said, "but the biggest thing is raise money for the children's hospital and to get people typed and registered for the bone marrow bank. To be able to save a life is priceless."
Both celebrities and athletes took the field to help Mia's cause – including "Desperate Housewives" actress Andrea Bowen, C. Thomas Howell, Josh Hutcherson, Mark Consuelos, Jimmy Jean-Louis of NBC's "Heroes," Angus Jones of CBS's "Two and a Half Men," "Lipstick Jungle/Las Vegas" actor James Lesure, Josh Henderson of the CW's "90210," Good Charlotte's Benji Madden, skateboarders Tony Hawk and Ryan Sheckler, and several of Hamm's teammates from the U.S. National Team including Brandi Chastain, Kristine Lilly, Joy Fawcett, Tisha Hoch and Abby Wambach. Other current and former male soccer players who participated included Cobi Jones, Chris Seitz, Matt Reis, Brian Dunseth and Alexi Lalas.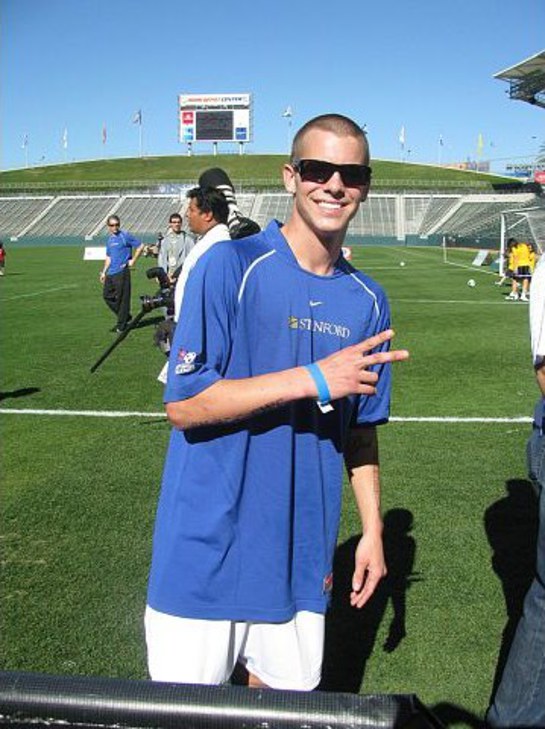 Skateboarding sensation and 'Life of Ryan' star Ryan Sheckler was a definite crowd pleaser as he participated in the event for the first time. "This is actually the first time I've ever played soccer," he told me. "It feels great, it's going to be a great day. Hopefully I make a goal, my goal is to make a goal today, just one and I'll go home happy."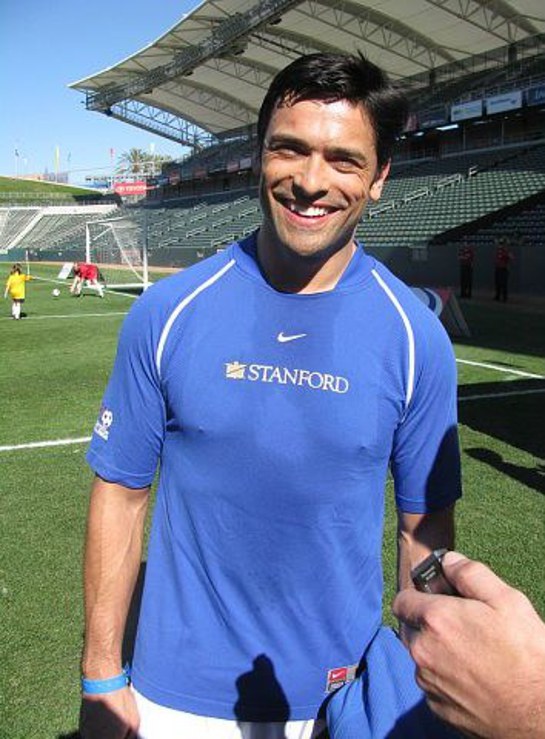 Actor Mark Consuelos was also playing soccer for the first time: "I doubt I'll score any goals. But it's for a great cause so I'm really excited to be here."
One of the youngest players and first time participant, actress Andrea Bowen, took a few minutes to speak with us before signing autographs for the throngs of young fans lining up to meet her. "This is my first game and I'm pretty excited that I get to play with all these people," she said, Sharpie in hand. "They're definitely going to have to pull extra weight because I really don't know what I'm doing but it should be fun and its all for a really good cause."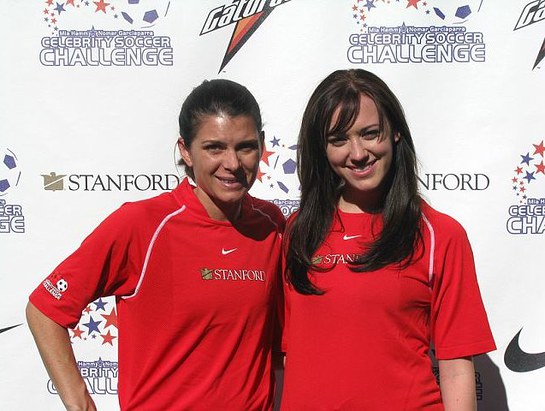 Tony Hawk: "This is my second time playing soccer, if you get one goal out of me you'll be lucky."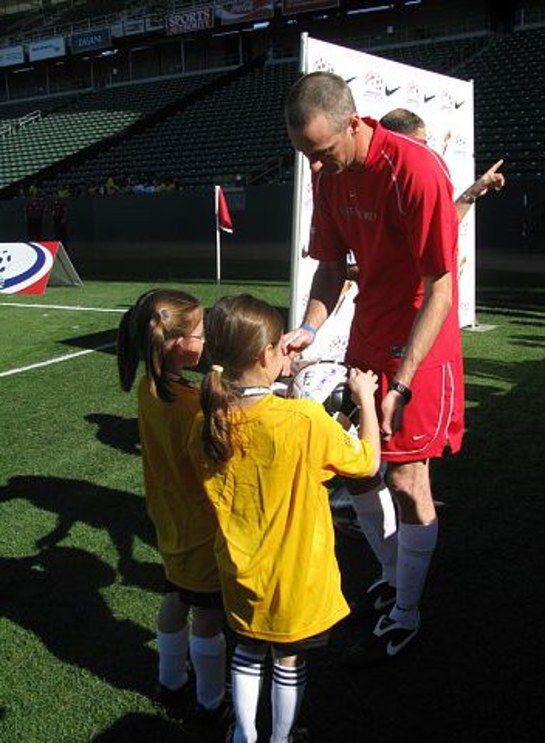 'Heroes' actor Jimmy Jean-Louis couldn't hide his excitement for the game. "It is a beautiful day and we are going to have a great time today," he told me prior to kick-off.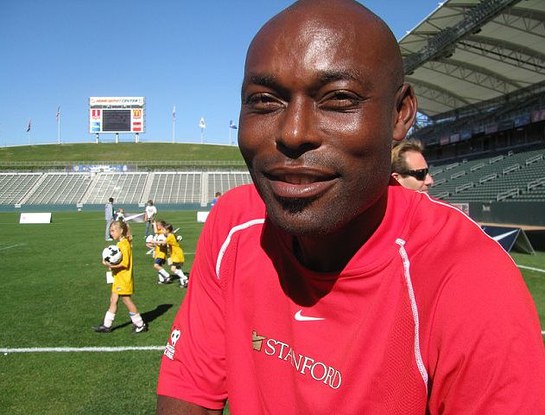 As a regular player for Los Angeles celebrity-soccer team Hollywood United, Jean-Louis is no stranger to using celebrity to raise awareness.
"I've been busy doing a lot of charity work. I started my own organization Hollywood Unites for Haiti, " he explained, "What I've been doing is collecting used (soccer) equipment and going to Haiti to give it to them because they really need this-that's really how the whole idea of Hollywood Unites for Haiti started," he smiled, "About a month ago some of us from Hollywood were invited to Haiti – including Josh Brolin and Diane Lane. That was for the opening of a hospital for handicapped, so that was nice and I plan to bring more awareness to Haiti because they really need help."