"I expected nerd heaven, and it was!" said Madelyn Richards describing her wish at Keystone Comic Con.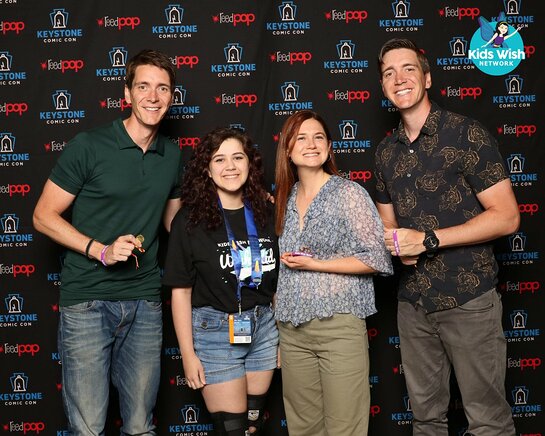 It was a special thrill for a girl whose bedroom has its own Harry Potter shrine displaying a large collection of memorabilia. Madelyn struggles with Ehlers-Danlos syndrome, a disease that weakens her body's connective tissues. Kids Wish Network, a children's charity that grants wishes for kids with life-threatening illnesses, made her dream come true, sending her to Keystone Comic Con with VIP access for the 3-day event to meet some of her favorite actors from Harry Potter's Weasley family.
Kids Wish Network flew Madelyn and her dad to Philadelphia for their colorful pop culture adventure. Keystone Comic Con featured celebrities, photo opps, panels, professional artists, cosplayers, and an array of booths selling special merchandise. Madelyn was thrilled meeting Harry Potter actress Bonnie Wright (Ginny Weasley) and actors James and Oliver Phelps (Fred and George Weasley). Her treasured time with cast members also included autographs and photos together. "Bonnie even came out from behind her table to spend time talking with Madelyn," said her dad Justin. Attending the panels was also exciting – especially since she had front row center seats for the Harry Potter Reunion: The Weasleys, and was up front during the Tom Holland Spotlight. "My favorite part was spending time with Bonnie Wright and James and Oliver Phelps," said Madelyn. "They all hugged me, and I tried not to cry. The Phelps twins said that Bonnie and I look like we could be related. That was the biggest compliment of my life."
"She was ecstatic throughout her wish and was smiling the entire weekend," said her dad.
Kids Wish Network Executive Director Tam Lai said, "We're thankful to everyone at Keystone Comic Con, Bonnie Wright and James and Oliver Phelps for making Madelyn's wish as magical as her favorite Harry Potter movies."
During Madelyn's own fantastical adventure, she and her dad also enjoyed swanky accommodations at Sonesta Philadelphia Rittenhouse Square and dinner at Cavanaugh's Rittenhouse.
Kids Wish Network is a national charitable organization dedicated to infusing hope, creating happy memories, and improving the quality of life for children with life-threatening conditions and struggling with life-altering situations. KWN provides for trip expenses, meals, accommodations and additional spending monies to all wish families whenever traveling as applicable.