Save the Children, the international humanitarian organization, held part one of two celebrations in recognition of its centennial anniversary, which started earlier in the day with Save the Children Trustee Jennifer Garner lighting up New York's iconic Empire State Building in red to mark Save the Children's 100 years of service of giving children a brighter future.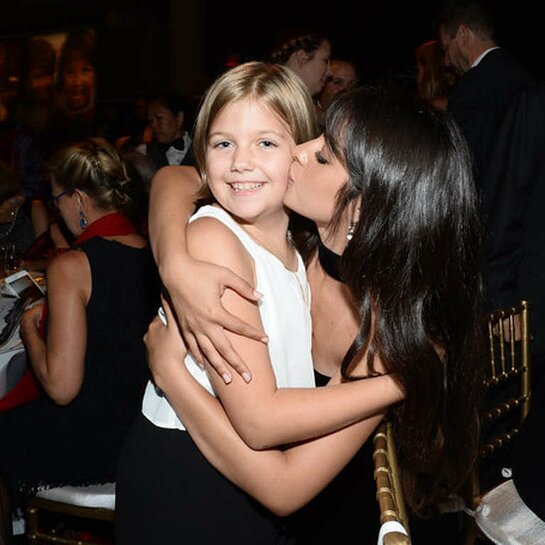 The celebrations continued in the evening with "The Centennial Gala: Changing The World for Children," which honored award-winning singer Camila Cabello (Voice Award honoree) and fashion designer and American icon Tommy Hilfiger (Humanitarian Award). The event took place at The Hammerstein Ballroom at Manhattan Center in New York City, and was co-hosted by NBC's Hoda Kotb and Willie Geist. Award-winning country music group Little Big Town performed their two hit songs, "Problem Child" and "Bring It On Home."
Save the Children Ambassador Camila Cabello was presented with the Voice Award by Save the Children CEO Carolyn Miles, for her continued effort to be a leader in shaping the future of philanthropy by speaking up on behalf of the world's most vulnerable children. Upon receiving her award, Camila recalled when she visited Save the Children's programs in Puerto Rico in 2018. She said: "I didn't know what to expect. I saw and read the news reports about the challenges and difficulties these families were facing. I was there a year after Hurricane Maria struck and I could still see its effects everywhere. What I saw when I met the teachers at the daycare and at the school left me speechless." She continued: "Despite everything these families went through, they remained strong and hopeful. Their number one priority was making sure their kids were safe, healthy and back in school as soon as possible. Save the Children was there for them." Cabello concluded her award acceptance speech by announcing her pledge to raise $250,000 for Save the Children, including its programs for refugees of conflict from the Middle East to Africa, children in poverty everywhere, children's health and education programs, and programs supporting gender equality.
Zendaya presented Tommy Hilfiger, founder of Tommy Hilfiger, with the Humanitarian Award for his unceasing dedication to uplifting the lives of others. In 1995, he launched The Tommy Hilfiger Corporate Foundation (now known as Tommy Cares) with the mission to empower America's youth, placing emphasis on education and cultural programs. With a focus on at-risk youth and education, Mr. Hilfiger works through his giving vehicle to foster healthy communities and empower young people to succeed. Upon receiving his award, Mr. Hilfiger said, "Giving back and helping others has always been a touchstone in my life." Hilfiger stated, "From the very start of my career, I've always dreamed of being successful enough to do more for the causes that are near and dear to my heart."
Gala presenting sponsor Johnson & Johnson announced a pledge of $5 million to Save the Children's Centennial Commitment, which is directed to humanitarian assistance, disaster relief and resilience. Through this donation, Save the Children will provide comprehensive mental health and psychosocial support for children, their families and caregivers across different phases of response —a critical intervention recognized widely by the humanitarian community for supporting children in need.
"At Johnson & Johnson, we are committed to advancing human health and believe that begins by caring for our youngest and most in need. Inspired by our joint mission, we are proud to partner with Save the Children to deliver unique and innovative programs to improve the health and well-being of children around the world," said Peter Fasolo, Executive Vice President and Chief Human Resource Office at Johnson & Johnson.
Jennifer Garner announced that the Bezos Family Foundation, a longtime supporter of Save the Children, is committing up to $10 million to establish an endowment to support Save the Children's early learning work in communities in rural America. The $10 million commitment includes a $5 million gift that will help Save the Children reach more U.S. children in their early years to help them toward reaching their full potential; additional funds up to $5 million would also be available to match new dollars contributed to the endowment through December 2022.
Additional guests include: Brad Irwin (Save the Children Board Chair), Brad Meltzer (bestselling author/Save the Children Changemaker), Eva Amurri Martino (actor), Halima Aden (model), Helena Glazer (influencer), Janti Soeripto (Save the Children President and COO), Mara Martin (model/Save the Children Changemaker), Michiel Huisman (actor, "Game of Thrones") and Tara Elders (actor), Ryan Serhant (Bravo's "Million Dollar Listing"; "Sell It Like Serhant") and Emilia Bechrakis Serhant.
"The Centennial Gala: Changing The World for Children" was produced by Jim Bell, veteran producer at NBC and current showrunner of The Tonight Show Starring Jimmy Fallon, and featured a dessert by renowned chef and humanitarian José Andrés, who created a special dessert for guests to enjoy.
As previously announced, Save the Children will also host a second centennial celebration on October 2 at the Beverly Hilton Hotel in Beverly Hills.