Last week, City of Hope, a world-renowned independent research and treatment center, raised more than $4 million at a black-tie gala honoring Epic Records Chairwoman and CEO Sylvia Rhone.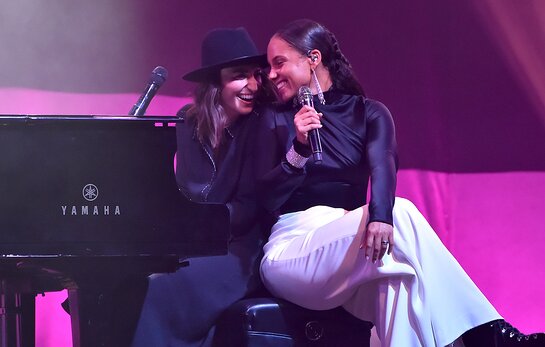 The funds will go toward the nonprofit biomedical institution's research to find improved treatments for cancer, diabetes and other life-threatening diseases. Held at Santa Monica's Barker Hangar, the annual event featured a one-of-a-kind duet performed by Alicia Keys and Sara Bareilles, as well as performances from Yolanda Adams and En Vogue. Eric H. Holder Jr., 82nd attorney general of the United States, presented Rhone with the prestigious Spirit of Life award.
Yolanda Adams opened the ceremony with a heartfelt performance, wowing the crowd with a medley of her favorites including "Just a Prayer Away", "Open My Heart", and "Someone Watching Over You."
Mega-producer Kuk Harrell thanked the incredible team at City of Hope for treating him like family him during his battle with prostate cancer, taking a moment to acknowledge his two doctors and care team who were all in attendance. He explained that it wasn't easy to find the right place to seek treatment after his operation – he didn't want to be somewhere where he would become just another statistic, he wanted to be somewhere that felt like home. After a phone call to his manager, who called 2018 Spirit of Life Award honoree Jon Platt, Harrell said he received an outpouring of support from City of Hope representatives ready to welcome him with open arms.
The crowd was in for a treat when Alicia Keys and Sara Bareilles took the stage together, for a one-of-a-kind presentation of some of their most beloved songs. It culminated with a beautiful duet of their hits "Girl on Fire" and "Brave."
After being welcomed to the stage by friend and admirer General Holder, Rhone gave an incredibly moving and personal speech, reflecting on her life-long commitment to the music industry, and thanking those who paved the way. Rhone, the first African-American woman to receive this award, recalled attending similar ceremonies in the past but never seeing anyone who looked like her on stage. Now, she said, she hopes that doors are open for everyone.
In a surprise display of admiration and respect for Sylvia Rhone, one of the most-trendsetting female groups in popular music, En Vogue, delivered a moving medley of their biggest hits from their time under her leadership at Atlantic and Elektra Records. For the first time ever, the Billboard and American Music Award-winning group performed as a quintet – having founding members Terry Ellis and Cindy Herron reunite with original singers Maxine Jones and Dawn Robinson; as well as current member, Rhona Bennett, who has been performing and recorded with En Vogue for more than 15 years. While En Vogue has both performed and recorded as a quartet and a trio, this is a 'first' for the five-woman collectively, that created a milestone moment reminiscent of the historic reunions by The Supremes, Temptations and New Edition.
The star-studded celebration culminated with an afterparty, deejayed by DJ Trauma.
Luminaries like 21 Savage, Swizz Beatz, Chloe Bailey, Bonnie Hunt, Jimmy Jam, DJ Khaled, Zara Larsson, Natalie Martinez, Meghan Trainor and Daryl Sabara, Forest Whitaker were in attendance.
This year, the gala also included a very special Paddle8 art auction with many of the exquisite pieces on display around the venue. Proceeds from this auction, featuring works by Derrick Adams, Deana Lawson, Julie Mehretu, Charles White and Kehinde Wiley, will go toward the fight for health equity.