The 22nd Annual ADAPT Community Network Golf Tournament was held at Brae Burn Country Club in Purchase, New York on May 8th.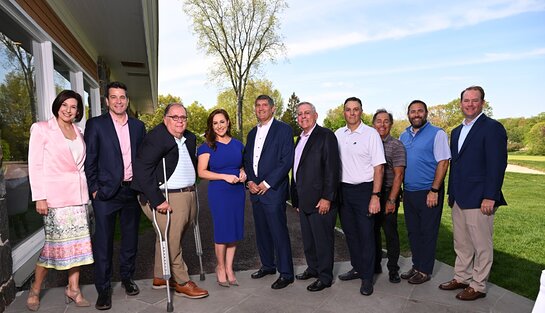 The event was sold-out and attended by over 150 people. The annual tournament supports ADAPT Community Network, with all proceeds from the event helping to fund the delivery of life-affirming programs and services to children and adults with disabilities and their families. The event raised over $200,000.
Steve Lacy, anchor, FOX 5 News at 5:00 p.m. and 10:00 p.m., and two-time Emmy-winner Teresa Priolo, FOX 5 News reporter and anchor, hosted this year's event. The tournament honored Mark A. Spivack, founding partner, The Weiss Group.
Following the day of golf, hors d'oeuvres and cocktails were served at the Brae Burn Country Club. Edward R. Matthews, CEO of ADAPT Community Network, gave welcome remarks. Steve Lacy and Teresa Priolo presented the ADAPT Golf Tournament awards.
"We thank everyone who supported this year's golf tournament," says Ed Matthews. "We were delighted to honor Mark A. Spivack. We thank Steve Lacy and Teresa Priolo for being such dedicated longtime supporters to ADAPT, and we also thank this year's ADAPT Golf Committee.
The 2023 ADAPT Golf Tournament Committee: Michael Berger, Valentino Galella, Edward R. Matthews, Jeffrey Weiss, and Alan Zack.
Steve Lacy is a longtime Co-Chair of ADAPT's Santa Project Party & Auction benefiting ADAPT's children's programs. He has also donated his time to serve as ADAPT's Team Captain for the annual Achilles Hope and Possibility race. This year was the second time Steve has co-hosted ADAPT's golf tournament.
Teresa Priolo is a past Co-Chair of ADAPT's Santa Project Party & Auction, and celebrity presenter at the Women Who Care Awards Luncheon. This year marked her fourth time co-hosting the ADAPT Golf tournament.