UNICEF UK Ambassador, TV presenter and mum of two, Cat Deeley, joined UNICEF UK campaigners at Downing Street recently to hand in a growing petition calling on the UK Government to improve early childhood services across the country.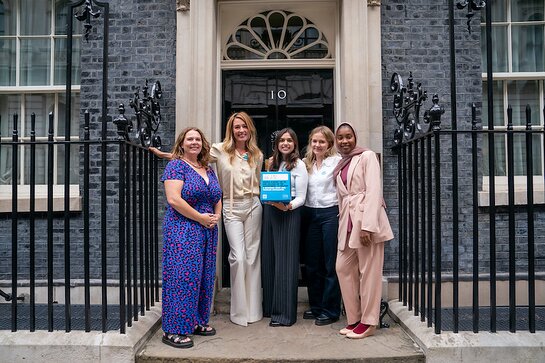 The petition has been signed by over 66,000 people including parents, carers and supporters countrywide urging the UK Government to step up support for children under 5 and their families by committing to a national Baby and Toddler Guarantee.
Joining UNICEF UK staff and campaigners in London today, UNICEF UK Ambassador Cat Deeley, said: "As a mum to two young children, I know how hard parenting can be. For many families across the country things are especially hard right now. No matter who they are or where they live, families need all the help they can get. That's why I'm proud to stand alongside UNICEF UK today, as the Baby and Toddler Guarantee would mean every parent and carer gets much-needed access to the right services at the right time, to not only support their babies but their own wellbeing too."
The petition is part of UNICEF UK's flagship campaign Early Moments Matter and comes as results of a new YouGov survey, commissioned by the UK Committee for UNICEF (UNICEF UK) reveal that 70% of parents with babies and young children feel it is getting harder every year to be a parent in Britain, with 70% feeling that being a parent today is harder than it was for their parent's generation.
The rising cost of living (83%) is the most common reason parents feel it is harder to be a parent now. More than two thirds (68%) of parents feel it is harder due to a lack of childcare, less time to spend with their children (64%), and fewer local support services (41%). Parents also said that the cost of housing (78%) and dangers of social media (75%) were making parenting for their generation harder.
Jon Sparkes, Chief Executive of UNICEF UK, said "This lack of support for families falls at a critical stage in babies and young children's development, threatening life chances and piling more and more pressure on families.
"These findings provide a stark snapshot into the reality for many families with babies and young children right now – worried for their children's future, struggling to make ends meet and left feeling anxious, alone, and unsupported. It is vitally important that families can access basic services like maternity care, health visits, mental health support, affordable and high-quality childcare and support for Special Educational Needs and Disabilities (SEND). These services, whilst essential for all, can provide a lifeline for families struggling financially and/or with their mental health. Urgent Government action is needed to address the gaps to stop families slipping through the net and to safeguard our babies and children's futures."