Award-winning and Emmy-nominated actress Melanie Lynskey brings her skillful storytelling and deft character voices to the SAG-AFTRA Foundation's free children's literacy program Storyline Online by reading Memoirs of a Hamster, written by Devin Scillian, illustrated by Tim Bowers and published by Sleeping Bear Press.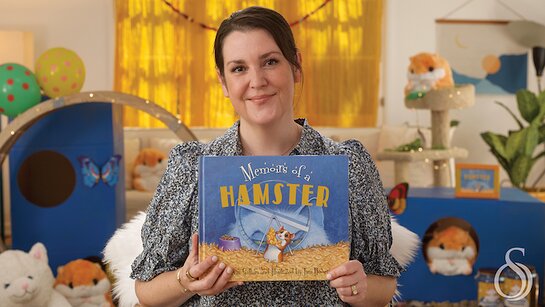 The New Zealand native shares her humor and humanity throughout this pet tale, which will have children laughing and learning about how to embrace life's small joys, and foster gratitude for all that one has.
Memoirs of a Hamster follows the day-to-day life of Seymour the hamster who is quite comfortable in his humble cage until Pearl the cat lures Seymour into the wide-open house with false promises of staircases made of sunflower seeds and a sunroom filled with yogurt drops. It all sounds too good to be true (turns out Seymour's instincts are right!) when this hamster adventure quickly turns into a dangerous dilemma. Seymour is chased by Pearl the cat, Buck the dog, and a monster called Hoover. A timeless theme, Seymour must venture beyond his hamster cage in order to appreciate the comfort and safety of his cozy home.
Storyline Online audiences who love Sutton Foster's read-aloud of Memoirs of an Elf are guaranteed to enjoy Melanie Lynskey's reading of another Devin Scillian and Tim Bowers memoir. And SAG-AFTRA Foundation President Courtney B. Vance is certainly excited to welcome Lynskey's read-aloud of Memoirs of a Hamster to Storyline Online's growing catalog of books.
"Melanie Lynskey's brilliant artistry and pitch-perfect performance are on full display in our new October release of Memoirs of a Hamster. Melanie is known for portraying complex characters on screen, which is why we were so excited to see what she would do with this book, and she does not disappoint. Melanie delivers a flawless, heartfelt and hilarious reading of a wonderful hamster memoir, and I'm sure that children will watch this one again and again," said Vance.
As with all Storyline Online read-alouds, Memoirs of a Hamster is accompanied by a complementary supplemental activity guide for teachers that aligns with Common Core Standards to strengthen verbal, written and comprehension skills. Memoirs of a Hamster has an activity guide that is recommended for 2nd and 3rd grade students and explores themes like friendship, truthfulness, appreciation, and of course — pets!
Melanie Lynskey joins the beloved cast of Storyline Online readers including Angela Bassett, Kristen Bell, Connie Britton, Keith Carradine, Terry Crews, Viola Davis, Rosario Dawson, Cynthia Erivo, Sutton Foster, Jennifer Garner, Allison Janney, John Lithgow, Simu Liu, Rami Malek, Seth Meyers, Bob Odenkirk, Holly Robinson Peete, Chris Pine, Sheryl Lee Ralph, Kyra Sedgwick, Justin Theroux, Oprah Winfrey, Michelle Yeoh, and many more who have volunteered their time and talent to promote literacy and inspire a love of reading in hundreds of millions of children worldwide.
To watch Memoirs of a Hamster and all of Storyline Online's read-alouds, visit storylineonline.net.