Event Chairman Dana Davis hosted The 37th Annual Carousel Ball, presented by Dexcom, on Saturday, October 28, 2023 at the Hyatt Regency Denver in Denver, Colorado.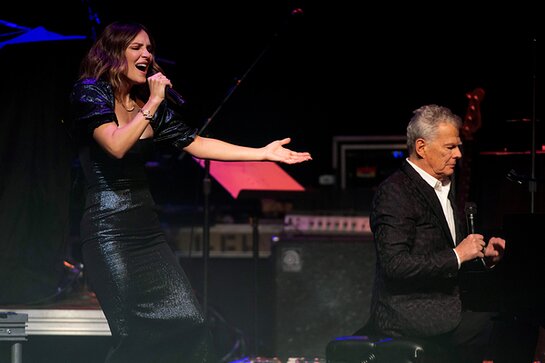 With David Foster as the evening's Master of Ceremonies, the biennial event returned to present Satish Garg, MD with the Founders Award and Juli and Joe Smolen with the High Hopes Tribute Award, while patrons of the evening were treated to show-stopping performances from Counting Crows, David Foster and Katharine McPhee. The event raised an incredible over $2.1 million this year, and has raised more than $110 million to date.
The 37th Annual Carousel Ball celebrated all the remarkable things the Barbara Davis Center for Diabetes has accomplished and brought to the forefront of diabetes care, as well as the exciting research and influential moments the Barbara Davis Center has been a part of since its inception in 1978. The Carousel Ball aims to support increasing awareness for diabetes and raise funds for clinical care and diabetes research at the Barbara Davis Center for Diabetes, which provides a clinical service for children, adolescents and young adults with type 1 diabetes and supports substantial clinical and basic science research programs to prevent, and ultimately, cure this chronic life-threatening disease.
Dana Davis kicked off the evening's festivities to welcome guests before Satish Garg, MD was presented with theFounders Award in honor of his incredible service and dedication to the Barbara Davis Center and the role he has played in advancing adult diabetes care and clinical research. Juli and Joe Smolen were also honored at the event, where they received the High Hopes Tribute Award for their incredible support and service with the Children's Diabetes Foundation.
Grammy-winning hitmaker David Foster and star of the stage and screen Katharine McPhee took to the stage to perform "Cry Me a River," "Singin' in the Rain," "Redneck Woman," and more, while singer Daniel Emmet joined Foster for a performance that included "You Raise Me Up."
Legendary rock band Counting Crows closed out the evening with an incredible performance of hit songs including "Colorblind," "Big Yellow Taxi," and "A Long December."
The event also held a live auction featuring hot ticket items such as a stay at The Little Nell in Aspen that went for $7,000; A Meet and Greet with Barry Manilow in Las Vegas, with a winning bid of $12,000; an exclusive stay at a private residence at Rosewood Mayakoba Villa Residences in Mexico that garnered an astounding $75,000; a Rancho Valencia Stay and Play experience featuring spa treatments and more for $25,000; and 10 Carat Diamond Hoop Earrings in 14 KT White Gold from Trice Jewelers that went for $20,000.
Diabetes, which afflicts over 463 million people, is rapidly on the rise. Each year, approximately 64,000 Americans are diagnosed with type 1 diabetes. Of those, approximately 30,000 are children. The Carousel Balls have raised more than $110 million to date, with proceeds benefiting the Children's Diabetes Foundation and the Barbara Davis Center for Diabetes (BDC), which provides state-of-the-art care to more than 7,500 active patients: 4,600 children and 2,900 adults with diabetes from the Rocky Mountain Region.
The 2023 Carousel Ball is presented by Dexcom, with additional underwriting support generously provided by Empower, Medtronic Diabetes, and RBC Wealth Management. Supporting sponsors of the event include Boomi, Eva & David Schoonmaker, GUESS Foundation, 7Cellars Wines, and the Hyatt Regency Denver.