NASCAR driver Kasey Kahne visited a McDonald's in Yelm, Washington, yesterday to personally congratulate and thank the restaurant crew members for their outstanding efforts during World Children's Day 2008 – selling the most paper Hands in the country through the "Give A Hand" fundraiser.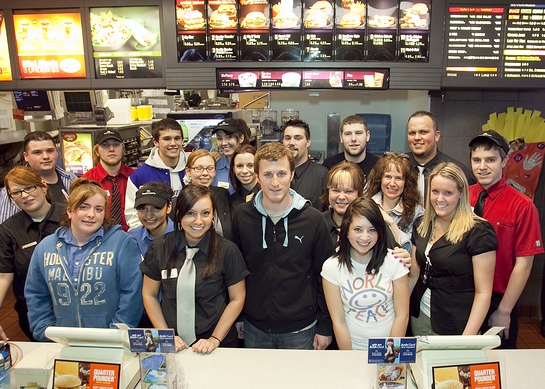 World Children's Day at McDonald's is the Company's largest annual fundraiser to benefit Ronald McDonald House Charities and other children's charities worldwide. The 2008 campaign raised more than $8 million dollars to help support the Charity's three core programs, including the Ronald McDonald House, Ronald McDonald Family Room and Ronald McDonald Care Mobile; since its inception in 2001, the campaign has raised more than $132 million for RMHC.
Kahne, a Seattle-area native and long-time supporter of RMHC, has donated $500,000 to the Charity to date in support of helping families with seriously ill children.
"I have seen first-hand what the Ronald McDonald House does and how they provide a home away from home for people that have a child in the hospital and need a helping hand," said Kahne. "I am happy to support Ronald McDonald House Charities."
In March, Kahne will team up with multi-platinum country music star Dierks Bentley to host the Sound Check 9 concert, a fundraiser for his Kasey Kahne Foundation. A performance by Dierks will follow an on-stage Q&A with Kasey. More info about the event can be found here.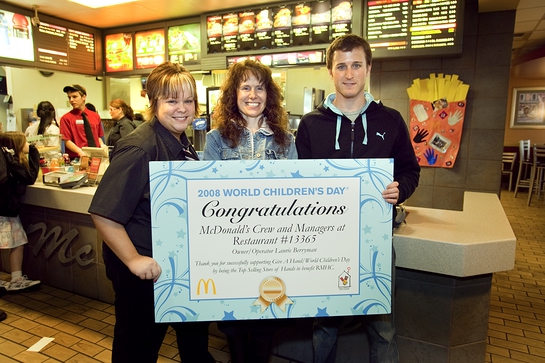 NASCAR driver and Celebrity Friend of Ronald McDonald House Charities® (RMHC®), Kasey Kahne, presented a certificate to Laurie Berryman, McDonald's® Owner/Operator (Middle), and Tabi Wylie, McDonald's restaurant manager (Left), in Yelm, Wash., for selling the most paper "Give A Hands®" during World Children's Day® 2008.