By Richard Barker on
I was recently honoured to be asked to attend a 'Chefs for Heroes' champagne and canapé reception. I felt inspired and enormously proud to be part of the project.
Paul Gayler read us a truly moving speech about his son. He felt compelled to help the British Armed Forces after his son Lee was shot in the leg whilst serving with the Territorial Army in Afghanistan. Having cooked for Royalty and pop icons such as Madonna, Mariah Carey and the late Michael Jackson, Paul's team of the finest chefs will be serving up the most sumptuous menu (using only the finest and freshest ingredients) to London's glitterati in a bid to raise £250,000 for Help for Heroes.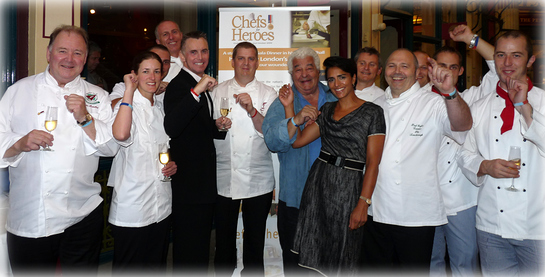 The funds raised will be channeled through "Help for Heroes, an independent charity that raises vitally needed funds to help support our wounded troops. Over the next year, the Charity's aim is to provide seven "Hero Recovery Centres" at garrison towns across the UK. These Recovery Centres will provide a home for the wounded and a much needed breathing space while they re-skill and prepare for the next phase of their lives, be that in the military or on and out into a civilian future.
Celebrity Chef Gary Rhodes commented: "I think that the great thing about being a chef is living in one big family. Chefs for Heroes provides us with an opportunity to help members of that family. We are always happy to help men like Paul in their hour of need."
Chefs for Heroes tables are still available. You have the unique opportunity to dine with Ainsley Harriott, Anton Mossimann, Brian Turner, Aldo Zilli and Antonio Carluccio. VIP red carpet arrival will be followed by a champagne reception. The chefs will use live cook stations to create some stunning canapés 'live'.
Guests will be served a sumptuous 5 course menu:
Terrine of smoked maize fed chicken and wild mushrooms
Baked Orkney scallop with leeks, ginger and coriander
Roasted fillet of Scotch beef, oxtail Boulanger, sauce hermitage
Iced soufflé 'Eau de Vie Dantzig', warm Mirabelle compote
Farmhouse Cheeses
Coffee & Friandises
The event also features a 'money can't buy' experiences auction, which features dinner at Coutts and a special break at Cliveden.
Live entertainment will be provided by Bond, who have been described as the best selling string quartet of all time, selling over 4 million records.
The event takes place on October 2 at Guildhall, London. More info can be found here.
If you would like to sponsor the event or book a table please contact Richardb@looktothestars.org.