By Regina Walton on
Purina is on a mission to educate its customers about the recyclability of its pet food cans. To celebrate the 40th anniversary of Earth Day, Friskies and Fancy Feast have created the "Together We Can" campaign.
HGTV's Kahi Lee, Jennie Garth, Peter Facinelli and Roberta Flack all created art for Purina's "Repurrposed" Gallery. On April 14th in New York City, Kahi Lee hosted The RePURRposed Gallery, which highlighted the works of art created exclusively with Friskies and Fancy Feast cat food cans. At the event, art made from Friskies and Fancy Feast cat food cans was on display.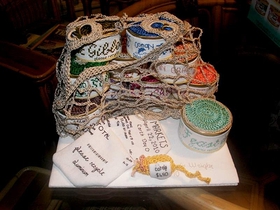 "As a proud owner of four cats, I know just how many cat food cans one cat owner can go through each week! I love my cats and want the best for them, but I also want what's best for the environment," says Kahi Lee, green expert, recurring interior design expert on the Rachael Ray Show and designer from HGTV's Design on a Dime. "Friskies and Fancy Feast's Together We Can campaign shows us simple ways we can lead greener, more responsible lives – by recycling and repurposing recyclable materials like your aluminum cat food cans. It's as easy as giving the can a quick rinse before you recycle them."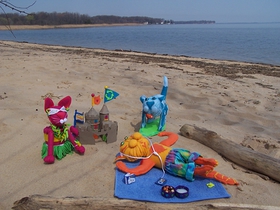 Various pieces of the artwork, including pieces created by husband and wife actors Peter Facinelli and Jennie Garth, musician Roberta Flack, and designers Kahi Lee and Katie Brown will be available for purchase on an eBay auction site. Starting on April 19th, you can visit TogetherWeCanRecycle.com for more information on the auction. The proceeds from the auction will benefit Keep America Beautiful, a national nonprofit organization which combines education with hands-on stewardship to prevent litter, reduce waste, increase recycling and beautify public spaces.


Even if buying artwork is beyond their means, pet owners should also visit TogetherWeCanRecycle.com to pledge to recycle their aluminum pet food cans. They can make this pledge until May 30th. Nestlé Purina Pet Care Company will donate $1 to Keep America Beautiful (up to $100,000) for every pledge received.


"As a company that produces over three billion cat food cans each year, we feel it is our responsibility to educate our consumers and encourage them to recycle," says Mark Brodeur, Director of Environmental Sustainability for Nestlé Purina. "Through the Together We Can campaign, we hope to shine a spotlight on the benefits of recycling aluminum pet food cans to show pet owners that every recycled can does make a difference. In fact, there's no limit to how many times aluminum can be recycled, which means every aluminum can that a pet owner recycles today has the potential to be recycled again and again."