Photographer Nigel Barker helped kick off a special event for the Make-A-Wish Foundation at Carnival at Bowlmor Lanes in NYC on May 15.
The event included fun and games, a live circus show, face painters and much more.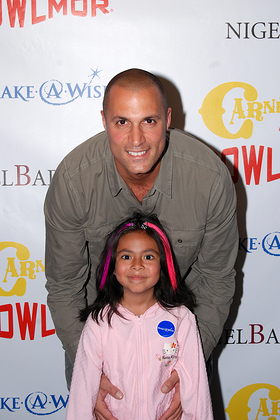 British-born Nigel Barker is a world-renowned photographer, regarded for his work as photographer and judge on the hit television show "America's Next Top Model." Currently airing its 14th cycle, the show is syndicated in more than 146 countries with a weekly global audience of over 100 million people. Barker is also the creator of the TV show The Shot on VH1. He directs and produces films, documentaries, and commercials for fashion-entertainment and Hollywood clients as well as international, charitable organizations.
The mission of the Make-A-Wish Foundation is to grant the wishes of children with life-threatening medical conditions to enrich the human experience with hope, strength, and joy. The Metro New York chapter, which serves the five boroughs of New York City and Nassau County, Long Island began in 1983 and is headquartered in Lake Success with a field office in Manhattan. Since its founding, the Metro New York chapter has granted more than 8,000 wishes. In Fiscal Year 2009, the chapter touched the lives of 766 wish children and their families by granting a record number of 510 wishes of local children and by facilitating 256 wish assists for children who reside in other areas, but whose wishes took place in New York – that's one wish every 11 hours, making Metro New York one of the most active chapters in the national network of 65 Make-A-Wish chapters across the country.
Photo: Andrew Werner.