Global Green USA celebrated its 14th Annual Millennium Awards honorees at a fundraising gala at the Fairmont Miramar Hotel & Bungalows in Santa Monica, California on Saturday, June 12, 2010.
The event also raised funds for Global Green's response to the Gulf Oil spill to support the communities impacted, to help document the devastation it is causing, fight for more legislative regulation of the oil industry and increased investment in renewable energy and clean technologies.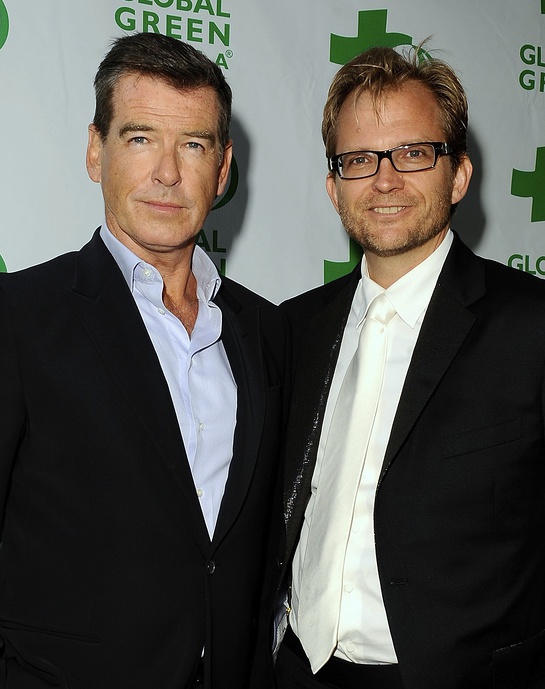 Pierce Brosnan & Keely Shaye Smith, Michelle Rodriguez, Amy Smart, Alison Brie, Sharon Lawrence, Judy Greer, Rhona Mitra, Walton Goggins, James Kyson-Lee, Cheryl Tiegs, Bahar Soomekh and State Senator Fran Pavley helped tribute the evening's honorees including the U.S. Environmental Protection Agency, The University of California System, The W Hollywood Hotel & Residences, James Cameron & Suzy Amis Cameron, and Global Green President Matt Petersen. The event was hosted by Good Morning America's Sam Champion.
"I am honored and humbled to join these extraordinary honorees," said Petersen, who received the Founders Award. "All of our honorees have demonstrated their deep commitment to environmental protection through innovative and groundbreaking efforts throughout California and across the country."
Global Green's Millennium Awards were established to recognize and herald those whose lives and livelihood embody its mission of "fostering a global value shift toward a sustainable and secure world." The Awards were designed to honor individuals and organizations who recognize the important connection between humankind and nature, to celebrate their success and inspire others to make such exceptional behavior the norm. They are presented annually in Los Angeles.
Saturday's honorees and their environmental leadership achievements included:
U.S.

ENVIRONMENTAL

PROTECTION

AGENCY

(

EPA

)
International Environmental Leadership Award: Recognizing their 40th anniversary as a federal agency. For four decades, the

EPA

has confronted numerous environmental challenges and helped dramatically improve the nation's drinking water and air quality. Today, the

EPA

has committed to work to fight climate change, clean up our communities and work for environmental justice insuring that vulnerable groups including children, the elderly, and low-income communities are protected from environmental and health threats.
THE

UNIVERSITY

OF

CALIFORNIA

SYSTEM


California Environmental Leadership Award: UC President Mark G. Yudof is accepting this award in recognition of the UC System's expansive leadership in constructing green buildings on their campuses, more

LEED

certified buildings than any other university in the country. Additionally the University has demonstrated exemplary leadership on climate change through campus-wide sustainability action and through robust academic initiatives on climate change and clean technology. 

W

HOLLYWOOD

HOTEL

&

RESIDENCES


Green Building Environmental Leadership Award: Marty Collins of Gatehouse Capital is accepting the award in recognition of their contribution to advancing green building with the newly opened and first

LEED

certified hotel in Los Angeles, which is built above a metro station in Hollywood. The development serves to as a leading example for other major metropolitan developments.
JAMES

CAMERON

&

SUZY

AMIS

CAMERON


Entertainment Industry Environmental Leadership Award: In recognition of their longtime commitment to environmental advocacy, specifically recognizing the global impact and environmental message of the landmark film

AVATAR

. Also recognizing Suzy's work within her own community to support green schools through the founding of

MUSE

Elementary, a school that inspires children to live more environmentally conscious lives.
MATT

PETERSEN


Founders Award: In recognition of his incredible leadership and bold vision during his 15 years of service at Global Green

USA

. This leadership drove Global Green to lead the green rebuilding of New Orleans within two weeks after Hurricane Katrina. Whether working to green affordable housing, create healthier schools, or work with Hollywood to shine the light on science and solutions, Matt's social entrepreneurial approach has led to creative methods in addressing environmental and climate crises.
PHOTOS: Michael Caulfield, Wireimage.com, via Slate PR