To kick-off the 2010 FIFA World Cup, the United Nations Development Programme (UNDP) Goodwill Ambassadors Didier Drogba and Zinedine Zidane launched an anti-poverty TV spot appealing for the world to live up to the challenge and join the team that will beat poverty.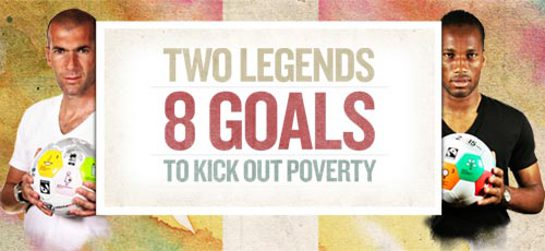 "There can be no spectators in the fight against poverty," said Chelsea striker Drogba, and Cote d'Ivoire national team captain. "We all need to be on the pitch to improve the lives of millions of poor people in this world."
The multilingual public service announcement will be broadcast during the tournament in South Africa and aims to bolster efforts to meet the Millennium Development Goals (MDGs), eight internationally-agreed targets which aim to reduce poverty, hunger, maternal and child deaths, disease, inadequate shelter and gender inequality by 2015.
"The World Cup brings people around the globe together to support their national teams, and we need the same kind of passion to end poverty and hunger," said Zidane, former French national team captain. "The 2015 target for the Millennium Development Goals is a few years away, so the time to make a difference is now."
Zidane and Drogba's video can be viewed on UNDP's new football site, www.kickoutpoverty.org, which gives people the opportunity to join the fight against poverty.
The TV spot was produced by UNDP with the creative vision of Mark Titus at August Islands Pictures in Seattle, USA. All production costs were covered pro-bono thanks to August Islands Pictures and Freestudios in Geneva. Official FIFA Partner, Sony Corporation, will be assisting with the broadcasting of the public service announcement.
The new anti-poverty website was produced pro-bono for UNDP by the HUGE digital agency in New York, USA.
Other key partners include Major League Soccer USA, Seattle Sounders Football Club and the United Nations Foundation.