Between them they have an OBE, a Military Cross, two Knighthoods, four BAFTAs and ten No 1 albums; they include a Dame, a Sir, Britain's "Most Intelligent Man", the best-selling classical artist of this century and the Forces Songbirds from both the 20th and 21st Centuries.
Now this host of leading talent has teamed up with The Royal British Legion and record label Decca to launch a fundraising CD to help boost funds for the Poppy Appeal. Celebrity readers including Stephen Fry and Joanna Lumley have collaborated on this album of words and music for Remembrance. Entitled "We Will Remember Them", the album will be the Official Album of the 2010 Poppy Appeal.
"We Will Remember Them", to be released as The Royal British Legion also launches its 90th anniversary appeal, aptly traces prose, poetry and news readings from the First World War through to texts from the present day written by Service men in Iraq and Afghanistan. All the readings are set to some of the world's most moving classical music.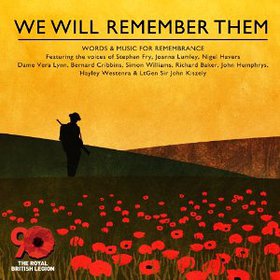 An impressive array of British talent has joined forces to read on this recording, giving up their time to help the cause. Those who recite texts on the disc are Stephen Fry, Joanna Lumley, Nigel Havers, John Humphrys, Bernard Cribbins, Dame Vera Lynn and Simon Williams, as well as forces songbird Hayley Westenra whose uncle served in the New Zealand Royal Air Force. Lt Gen Sir John Kiszely, the President of The Royal British Legion and a decorated war hero who also served on the Falklands frontline, completes the round-up.
The album includes some of the nation's favourite poems of Remembrance, leading the listener through conflicts chronologically and taking in best-loved prose from Rupert Brooke's World War I sonnet 'The Soldier' to Staff Sergeant Andrew McFarlane's 'Sunset Vigil', written to commemorate his comrades killed while serving alongside him in Afghanistan.
In addition Stephen Fry reads 'In Flanders Fields', Joanna Lumley recites 'Do Not Stand at My Grave and Weep' and Nigel Havers reads 'Our Wall' written by William Walker, a Battle of Britain veteran whose Spitfire was shot down 70 years ago. A particularly moving moment is Joanna Lumley's reading of 'I Am With You' written by Hannah Carpenter, a Service wife.
Joanna Lumley said of the project: "I've observed Remembrance Day all my life. Because my father was a soldier Remembrance Day is always sacred to me."
This album serves not only as a poignant reminder of the importance of Remembrance Day but will also help with The Royal British Legion's target of raising £90 million in this, the Poppy Appeal's 90th year. £1 per album will be donated directly to The Royal British Legion.
Lt Gen Sir John Kiszely, President of The Royal British Legion, added: "Remembrance Day is a time to remember all those who sacrificed their lives, particularly those from the British Armed Forces. It's a personal time for many as we remember individuals we have known who've been killed. I'm delighted by the release of this album, both to raise all-important funds for The Royal British Legion and to convey the sentiment of the nation at this poignant time."
The CD is available from Amazon Records and £1 from the price of this album will be donated to the Poppy Appeal.