This is your chance to hear first-hand from Matt Damon's Water.org about their work in Tigray, Ethiopia, the impact their programs are having on people's lives, and their plans for the future in this region.
You are invited to be part of a conference call from Water.org's International Programs Manager, Heather Arney about the charity's work.
In addition, Water.org's Chief Community Officer, Mike McCamon, will talk about the third generation of the organization's field reporting tool, my.Water.org, and how you can receive and share real-time program updates from the field.
Water.org will welcome questions about their work during an open question and answer session at 9pm ET today, December 1. (*As a courtesy to other callers, the Q&A will be focused on questions about Water.org and their work).
To find out how to be a part of this event, click here.
And for those looking for the perfect gift this Christmas, Matt Damon recommends the new Water.org water bottle designed by his brother.
When you treat your family and friends to a Water.org, CamelBak bottle, you'll also be giving a life-changing gift to someone in need.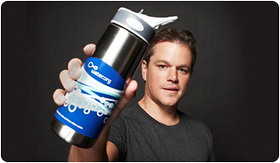 The bottles are a limited edition design, environmentally friendly and great holiday gifts.
And 100% of the profits go directly to support nearly a billion people in the world who lack clean water.
Give just one bottle and you help a child get clean, safe water. Give more and you change even more lives – forever. The need has never been greater and you can make a real difference simply by shopping now.
Find out how to get yours here.