Stand Up To Cancer (SU2C) is set to launch a brand new public service announcement (PSA) campaign in collaboration with founding donor, Major League Baseball (MLB).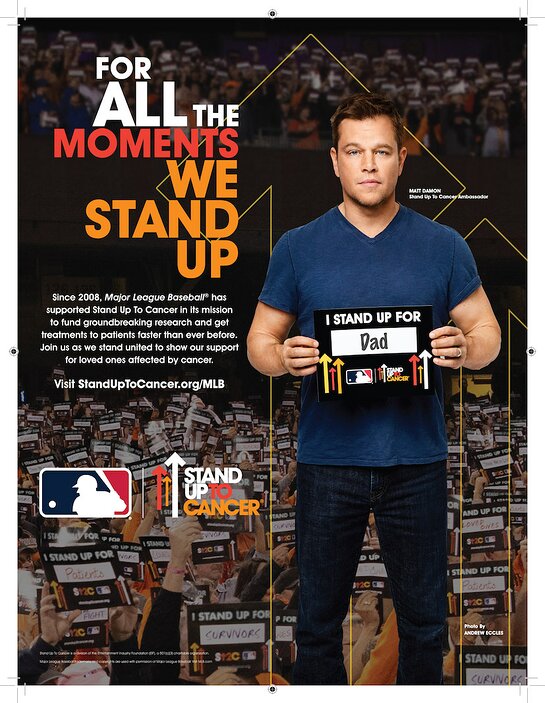 Embodying the spirit and sense of community synonymous with baseball, the campaign — titled "For All The Moments We Stand Up" — culminates with the now iconic SU2C placard moment when tens of thousands of fans, players, managers and other on-field personnel stand for a moment of silence to support a loved one affected by cancer. The PSA debuted on Tuesday, July 9 during the 2019 MLB All-Star Game Presented by Mastercard.
The new broadcast PSA will center on the lighthearted touchpoints that are iconic to baseball— standing to catch a foul ball, catching a bag of peanuts from a vendor, being featured on the jumbotron— before building up to the moving placard finale, which underscores the remarkable impact of standing together as one powerful, united force. The campaign, launching in July, will come to life across print, digital, radio and out-of-home media, including placements throughout the 2019 World Series presented by YouTubeTV.
The PSA is the latest collaboration between SU2C and MLB, marking MLB's 11th year as a supporter of SU2C. To date, MLB has pledged more than $50 million to SU2C's collaborative cancer research programs, providing invaluable support for research which has helped lead to six FDA approvals for new cancer therapies.
"We are proud that our partnership with Stand Up To Cancer has had a significant impact on cancer research over the last decade," said Baseball Commissioner Robert D. Manfred, Jr. "This year's campaign is yet another example of our sport's commitment to raising awareness around this disease until every person who is battling cancer becomes a survivor."
"The unparalleled support from our founding donor, MLB, has been nothing short of incredible," said Rusty Robertson, SU2C co-founder. "Each year, the sight of thousands of fans from all walks of life, standing together, holding placards in support and in memory of loved ones, is such a powerful and emotional moment. MLB has amplified SU2C's rallying cry across the nation, underscoring that almost all of us are touched by cancer in some way and no one is alone in this. We must continue to come together and raise our voices."
The broadcast and English and Spanish language print PSAs feature Uzo Aduba, Jordana Brewster, Matt Damon, Zachary Levi, Joe Manganiello and Candice Patton, whose lives have all been touched by cancer in some way. The broadcast PSA also includes Connor, an Ewing sarcoma survivor, and Marshella, a breast cancer survivor. The broadcast PSA was developed by SU2C and produced by Shark Pig, an LA-based production company that produces everything from online ads to feature-length documentary films. Jesse Fleece, a Highland Park-based director who blends comedy and drama to tell human stories of love, hope and redemption, directed the PSA. The print campaign was produced by SU2C with photography by photographer Andrew Eccles, and art direction by Paul Moore.
In 2008, Major League Baseball, including its 30 Clubs, became the founding donor of SU2C. Since then, MLB has played a pivotal role in helping to fund groundbreaking research that translates to lifesaving treatments for cancer patients, pledging more than $50 million to support SU2C's innovative research programs. In 2011, MLB and SU2C created the first-ever "placard moment" at the MLB All-Star Game. The placard moments have been a part of each All-Star Game and World Series, with tens of thousands of fans, players, umpires and stadium staff pausing to honor a loved one affected by cancer.
Over the past 11 years, SU2C's collaboration with MLB has brought the cause into the homes of millions of baseball fans across the country. In addition to the impactful placard moments, SU2C and MLB have launched numerous campaigns to celebrate their collaboration including past PSAs involving SU2C ambassadors Steve Carell, Jake Gyllenhaal, Colin Hanks and Ken Jeong. MLB has provided a platform to significantly amplify SU2C's mission and make significant strides toward the day when all cancer patients become long-term cancer survivors.