On Tuesday, Nov. 30, actress/singer Jennifer Lopez joined 18-year veteran Denzel Washington as an advocate for young people by becoming an official spokesperson for Boys' and Girls' Clubs of America.
To celebrate BGCA's 20th anniversary of its name change to Boys & Girls Clubs, BGCA introduced Lopez at the Nokia Plaza in Los Angeles.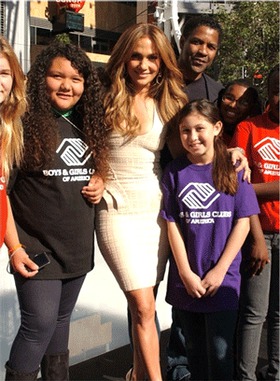 Denzel Washington has served as national spokesperson for BGCA since 1992. An alumnus of the Club in his hometown of Mount Vernon, N.Y., Denzel has proven a tireless advocate for the Clubs and the young people they serve. He has participated in five national advertising campaigns, has served as an active member of BGCA's Board of Governors since 1996, appeared before Congressional leaders on Capitol Hill, and wrote a book about mentorship – A Hand To Guide Me – with proceeds benefitting Boys & Girls Clubs. In 2008 he launched the BE GREAT campaign, asking more than 20 fellow Club alumni to give back by supporting the organization that helped them open the door to a great future.
By inviting fellow-alumnus Jennifer Lopez to join him as national spokesperson, Denzel is expanding this key role to two people for the first time in the organization's 104-year history. The announcement commemorates the 20th anniversary of the organization's name change from "Boys Clubs" to Boys & Girls Clubs of America, marking the expansion of the mission to reach all young people in need.