Stephen Colbert is pleased to announce the auction of Portrait 5, Stephen(s), a noted work of portraiture attributed to the host, enhanced by the artistic contributions of Shepard Fairey who spray-painted it, Andres Serrano who Sharpie'd it, and Frank Stella who glanced at it.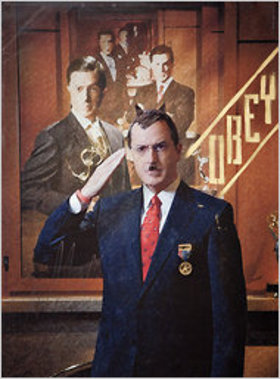 The Phillips de Pury & Company auction of the portrait will take place at 450 Park Avenue in New York City on Tuesday, March 8 with proceeds to benefit school arts projects through DonorsChoose.org, an online charity connecting donors to classrooms in need. The auction will be taped and air in a future episode of "The Colbert Report."
Says Colbert, "Turns out I'm an artist. That finally explains why I cut off my ear. Many thanks to Phillips de Pury for including this portrait in their auction. I am honored to be sold in the prestigious manner usually reserved for foreclosed homes and champion hogs."
Portrait 5, Stephen(s) debuted on the December 8, 2010 episode of "The Colbert Report" as part of an interview with Steve Martin to discuss the release of his new book An Object of Beauty. Invited for an opinion, Frank Stella instantly declared the unaltered portrait a work of art. Shepard Fairey then spray-painted his iconic OBEY to the canvas and Andres Serrano drew horns and a mustache on Colbert, then signed the work.
The portrait, the fifth in a series, is at once a celebration of the attainment of immortality through fame, and a memento mori, with each iteration of the portrait unveiling a step on the subject's inexorable march to death. Previous versions of the portrait have been exhibited at the National Portrait Gallery, in a palace of a Saudi prince and at a South Carolina BBQ restaurant. Portrait 5, Stephen(s) will be illustrated in Phillips de Pury & Company's on March 8, 2011 "Under the Influence" auction catalog, an annual auction focusing on recent works of contemporary art, photographs and design. The portrait will be available for viewing from Friday, February 25 through Monday, March 7 at 450 West 15th Street in New York City.