Bounty Paper Towels is teaming up with 2011 Golden Globe nominee and mother of two Julianne Moore and dozens of local volunteers to launch "We Love Our School" Week at a Manhattan public school.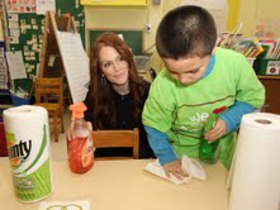 "I'm thrilled to roll up my sleeves and join Bounty to kick off 'We Love Our School' Week with the parents and children in New York City," said actress Julianne Moore. "As a mother of two young children, I know first-hand how important it is to foster creativity and hands-on learning at a young age, and what better way to show love this week than by helping to improve your child's learning environment."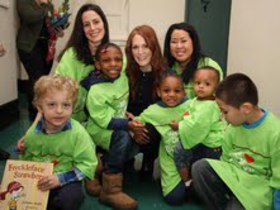 In partnership with PTO Today, an organization focused on filling un-met school needs through parent-teaching partnerships, Bounty has made a pledge to provide clean, creative learning environments for children nationwide knowing that 94% of teachers believe students learn better in a clean classroom. Yet roughly half of teachers admit their classroom is cleaned less frequently or thoroughly now than at the beginning of the year.
As Julianne announced at this week's school clean up, "We Love Our School" Week Bounty and PTO Today will mobilize parent and community volunteers to clean up 1,000 schools and 2,500 classrooms nationwide. On Friday, 2/18, another mother of two and entrepreneur, Kimora Lee Simmons is set to announce how more schools across the country will be able to get involved in Bounty's clean school initiative.
Schools interested in taking the pledge along with Bounty can find out more by visiting the Bounty Facebook page and clicking on the "We Love Our School" tab. Schools making the pledge will be entered into Bounty's "We Love Our School" sweepstakes for a chance to win a celebrity-designed $50,000 school makeover. The first 500 schools to take the pledge will also receive a Bounty Clean Kit to utilize in their own school cleaning event.
For information on this program, Bounty's Make a Clean Difference initiative and to learn more about how to get your local school community involved, visit www.Facebook.com/Bounty.