Olivia Harrison, founder of the George Harrison Fund for UNICEF and wife of the late musician George Harrison, visited Bangladesh last month with a delegation that included U.S. Fund for UNICEF President & CEO, Caryl M. Stern and Jonathan Clyde of Apple Corps.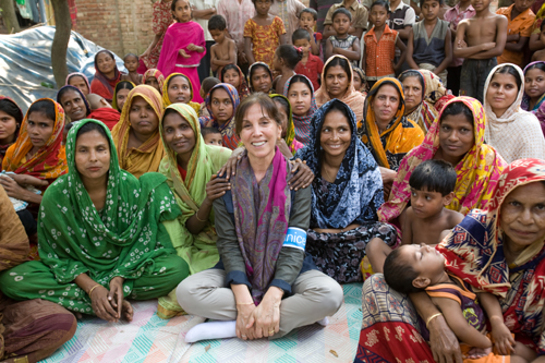 UNICEF/2011/B. A. Sujan
It was Olivia Harrison's first visit to the country since her family began its 40-year relationship with UNICEF through the groundbreaking "Concert for Bangladesh" in 1971. Over the years, she has wholeheartedly embraced the legacy of her late husband's humanitarian contributions to Bangladesh, and she is dedicated to helping foster a new Bangladesh where every child counts.
The trip was an opportunity for Olivia Harrison and the UNICEF team to see some of the programs that have been brought to life thanks to Olivia Harrison and the George Harrison Fund for UNICEF.
Just east of Bangladesh's capital, Dhaka, is the small town of Chouw. Here, the Kishori Girls Club greeted Olivia Harrison and the UNICEF team with traditional songs and dances.
The children were discussing HIV and AIDS that day. They are well aware of how to protect themselves against HIV, in fact, club members actually help promote awareness publicly through drama performances in public places. Even though the prevalence rate of HIV and AIDS is less than one percent in Bangladesh, there remains a significant degree of misconception among young people about the disease.
"This is a unique opportunity," said Olivia Harrison, "where both boys and girls are mingling together, sharing ideas as friends and discussing this important issue, which will help them to develop their confidence level and hopefully spare them from an avoidable spread of HIV."
A Legacy of Compassion for Bangladesh
Centers for at-risk children, schools for working children, and life-skills clubs for adolescents are a just some of the initiatives that the George Harrison Fund for UNICEF is supporting to help address the educational needs of Bangladesh's most vulnerable children.
In partnership with the government of Bangladesh and other NGOs, UNICEF is working to prepare the young generation of the country for the challenges that lie ahead.
George Harrison organized what is considered to be the first large scale, multi-artist benefit concert in 1971, following a massive storm – Tropical Cyclone Nora – that hit Bangladesh on the night of November 11. Bangladesh – then known as East Pakistan and already crippled by the War of Liberation – was brought to its knees, with over 500,000 people losing their lives in what still reigns as the deadliest tropical cyclone on record and one of the worst natural disasters ever.
Read the full account of Olivia's trip here.
Source: UNICEF