Jude Law and Kevin Spacey joined Free Belarus Now for a protest outside the offices of public relations firm Grayling in London this week to bring attention to Grayling's drive to encourage foreign investment into a country that is facing State-led persecution of pro-democracy activists.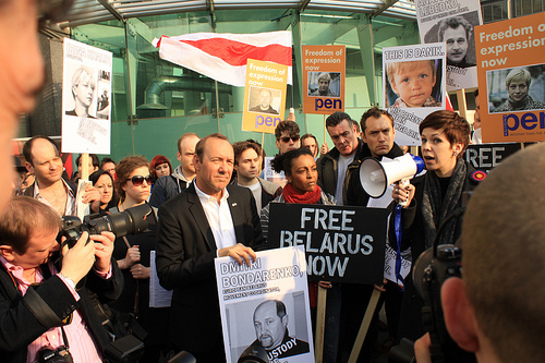 According to its website, Grayling is the second-largest independent public relations, public affairs, and investor relations consultancy in the world. The company opened an office in Minsk at the end of 2009 and is currently the only international public relations company to have done so. Grayling states on its website that "Belarus is a market that is often misrepresented in global media".
Numerous international observers, including the U.S State Department, have published reports on the human rights abuses by government in Belarus, and the failure to account for politically motivated disappearances of individuals. The most recent presidential elections in December 2010 were described by the OSCE as "marred by detentions of most presidential candidates."
Despite criticizing the President of Belarus, Alexander Lukashenko, the British government is yet to impose any trade sanctions on the country. In contrast, the U.S. government – in response to Lukashenko's crackdown on political opponents – has instigated both political and economic sanctions.
"British society is one of the most active in protesting against injustice in any part of the world and it is a great honour that Belarus is supported by British citizens," Natalia Koliada, Co-Founder of Belarus Free Theatre says. "Now we have the opportunity to protest together"
Photo: Alexander Čajčyc via FreeBelarusNow.org
Source: FreeBelarusNow.org