This week, Jordan Brand partnered with the 10th Annual Michael Jordan Celebrity Invitational to celebrate the Las Vegas debut of the four-day charity tournament with a welcome celebration at HAZE Nightclub in ARIA Resort & Casino at CityCenter.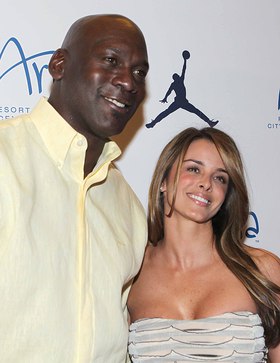 Michael Jordan and Yvette Prieto
Outside the Vegas hot spot, fans cheered and gathered to catch a glimpse of some of the world's greatest sports and entertainment stars on the red carpet. Enthusiastic roars came from the crowd as Michael Jordan descended the escalator toward the red carpet in a yellow linen shirt and gold hoop earring with beautiful girlfriend Yvette Prieto. When asked about the tournament, Jordan said, "Everybody is very happy about [the tournament moving to Las Vegas] but I think that they're more worried about the golf course, because a lot of them have never had a chance to play Shadow Creek … They've never had a public tournament here at this golf course."
And who does Jordan think will win? "I haven't set the pairings yet, but I definitely want to win," said Jordan. "I'll do everything we can to try to win. It should be fun."
This year's tournament, which runs until April 3, will benefit the Make-A-Wish Foundation, The James R. Jordan Foundation, Cats Care and the Nevada Cancer Institute.
All the stars were clearly excited to be a part of the annual charity event as football legend Jerome "The Bus" Bettis could not stop smiling and baseball great Ken Griffey Jr. jokingly chatted up the reporters and photographers. The always sexy Gabriel Aubry said, "Let's HAZE it!" before making his walk on the red carpet, and hockey star Brett Hull declared, "Wow, this feels like Hollywood!" as he posed for the cameras with his beautiful wife, Darcie. Baseball pro Mike Piazza took a moment to take in the atmosphere, and said "I haven't been here [Las Vegas] in awhile, and it's the first time I've been to ARIA. It's amazing. It's a very cool place. You almost don't feel like you're in Vegas. It's got a unique, kind of modern vibe to it."
Speaking to the charity side of the event, Jordan told reporters he thinks "it's going to be a big contribution to the charities. I'm very proud and very happy that a lot of celebrities came out to try to support [us], and people are going to benefit from it."
Hockey legend Wayne Gretzky said he was thrilled to participate in MJCI. "The greatest thing about being celebrities or professional athletes is the opportunity to help people who are less fortunate and help charities around the world," said Gretzky. "Michael is always there to help people, and we're just part of this whole team."
Jordan Brand celebrity and actor Chi McBride was looking suave in his khakis and blazer while basketballer Penny Hardaway rocked a sweater and True Religion jeans. Also joining Jordan in the nightclub were country music icon Toby Keith in a black cap, jeans and beige corduroy shirt and NBC's The Office funnyman Brian Baumgartner.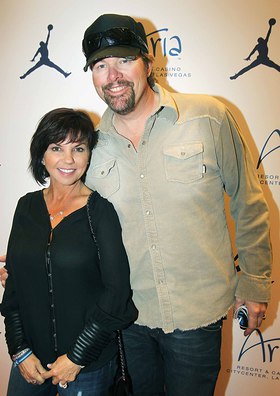 Toby Keith and Tricia Covel
Actor/comedian Larry David came to show his support for the charities but was hesitant about golf as he told reporters, "I don't play that many tournaments. In fact, I avoid tournaments, because I'm afraid I'll kill somebody. Think I want a gallery watching me swing? It's hard enough swinging with your friends looking at you. No, I could get sued."
The night was young, and everyone was having fun and keeping it friendly before the first round of the competition takes off. The Celebrity-Amateur competition began on Thursday, March 31st at Shadow Creek.
Photos: Chris Weeks/ WIRE Image, via Meghan Baker, Kirvin Doak Communications