Actress and animal rights activist Pamela Anderson is helping the charity Cool Earth protect 70 acres of rainforest as a birthday gift for their dedicated supporter, Dame Vivienne Westwood.
Vivienne Westwood – who celebrates her 70th birthday on April 8 – will now have an area of Amazon rainforest the size of St James's Park in London protected in her name.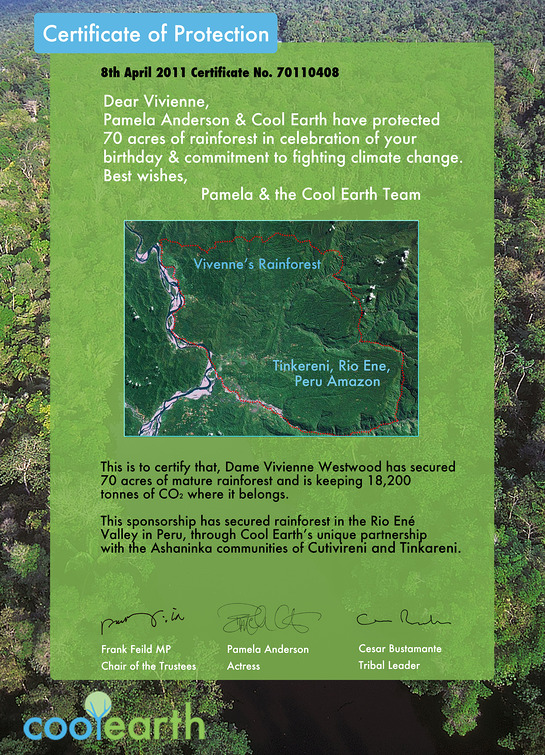 Pamela Anderson – who was Dame Vivienne's shock muse for one of her campaigns – told Cool Earth, "I'm really excited to support Cool Earth and give Vivienne such an incredible rainforest gift. She is one of my favourite people."
"Vivienne's passionate belief in Cool Earth's work has made her one of our most cherished champions," said Cool Earth founder, Frank Field MP. "How wonderful to have Pamela Anderson engaging in such an immediate way to make a positive difference to our environment by helping to save 70 acres of rainforest for Vivienne's birthday."
The 70 acre plot is in the Ashaninka region of the Peruvian rainforest, by the Rio Ené, where without Cool Earth's support the trees would be deforested by loggers. Cool Earth does not "buy" rainforest but places the land back in the hands of indigenous communities making sure they're best placed to protect it. This gift of sponsorship will prevent a staggering 18,200 tonnes of CO2 emissions from being released into the atmosphere through deforestation. That's the same amount of CO2 emitted by 20, 000 people flying from London to New York!
"The great thing about Cool Earth is that its activities are focused on the first problem, deforestation," said Westwood.
Vivienne Westwood has supported Cool Earth since 2009 and helped launch Cool Earth Coffee in November 2010 where each jar saves an Amazon rainforest tree. The Rainforest Alliance certified coffee is available in Tesco stores across the UK. The designer also designed an exclusive range of table cloths in her Gold collection with 100% of funds raised being dedicated to protecting rainforest.
"The idea behind Cool Earth is that if we can help pay to conserve an acre then we can make a real difference," says Cool Earth supporter Sir David Attenborough. "Perhaps the biggest difference we will make in our whole lives."
"There's only so much an individual can do to halt climate change," adds Ricky Gervais. "But if you support Cool Earth, you'll do at least ten times more to save the world. Join Cool Earth."
Find out more here.