Farm animals took Manhattan on Saturday night at Cipriani Wall Street, as the stars came out in full-force to celebrate the 25th Anniversary of Farm Sanctuary, the nation's leading farm animal protection organization.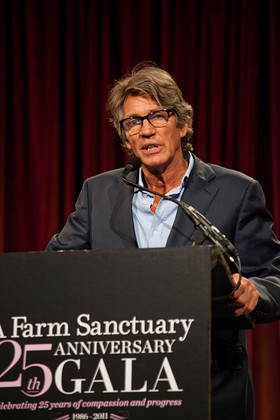 Eric Roberts, photo: Lesley Marino
Compassionate celebs including Corey Feldman, Jesse Eisenberg, Wendie Malick, Eric Roberts, Fred Willard, Loretta Swit, Ally Sheedy, and Carol Leifer dined on a three-course gourmet vegan dinner while honoring 25 years of progress for farm animals.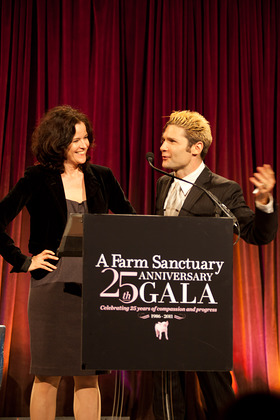 Ally Sheedy & Corey Feldman, photo: Lesley Marino
As the nation's leading farm animal protection organization, Farm Sanctuary has worked for 25 years to protect farm animals from cruelty, inspire change in the way society views and treats farm animals, and promote compassionate vegan living.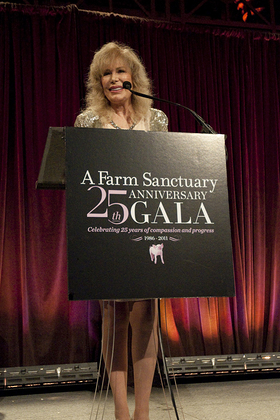 Loretta Swit, Photo: Bridget Laudien
The Gala was a celebration of vegan food, compassion for farm animals, and the tireless efforts of several champions in the movement. David Lee, chef and president of the innovative food company The Field Roast Grain Meat Company, worked closely with the chefs at Cipriani to create an inspired, delicious vegan menu. Farm Sanctuary shared these sumptuous recipes with the public after the event to further demonstrate how vegan food can be elevated to new culinary heights in the hands of chefs like Lee – and how to replicate it on your dinner table.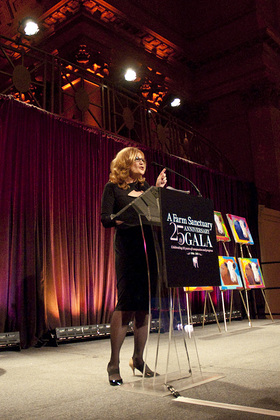 Carol Leifer, photo: Bridget Laudien
"This is as much a celebration as a recognition that we are in the midst of a major awakening about the food we put in our bodies and what it means for the world around us," said Gene Baur, co-founder of Farm Sanctuary. "Twenty-five years ago I couldn't have predicted the profound effect Farm Sanctuary would have on how our society views and treats farm animals. We still have a long way to go and events like this are important milestones on the road to renewing our empathy and compassion."