By Tim Saunders on
NBA star Samuel Dalembert and WNBA star Nykesha Sales were in Haiti recently, to visit a malnutrition center with UNICEF.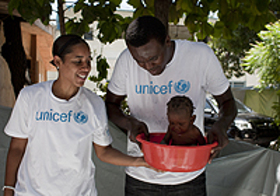 The center is part of the University Hospital of Haiti, severely damaged in the 2010 earthquake.
"We've been wanting to make a trip like this for a while, to bring players here to see the situation so we can organize programs here," said Dalembert, who was born in Haiti.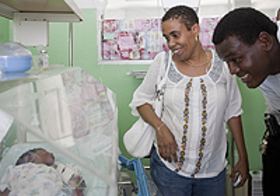 According to UNICEF, "More than 2% of Haitian children have suffered from severe acute malnutrition at least once in their lives. Among malnutrition types, severe acute malnutrition has the highest risk of death. A child who has suffered from and survives the condition risks permanent physical and mental affects, especially if malnutrition occurs in the child's first two years."
"Malnutrition is the number one cause of death among children under five in Haiti and other developing countries," said UNICEF Representative in Haiti Francoise Gruloos-Ackermans. "There has been great progress made in addressing malnutrition in Haiti through prevention and response activities. But chronic malnutrition remains a silent killer for one in three children under five years of age in Haiti, particularly in remote and under-serviced communities."
Photos: © UNICEF Haiti/2011/Casares