Singer Olly Murs recently granted a wish to a very special little blind girl in the UK who suffers from a rare condition called Septo-Optic Dysplasia.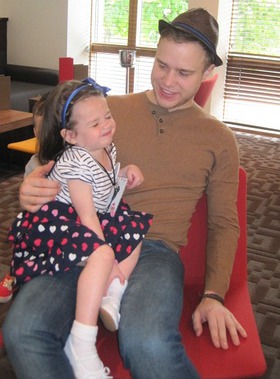 Four-year-old Mia-Jade's wish to meet her idol was facilitated by Make-A-Wish UK. She met Olly at the Mint Hotel in Birmingham with her Mum Katie, her Auntie Lisa and her brother Jayden. She has been a huge fan of Olly since he was runner-up on The X Factor in 2009, so meeting him was amazing in itself – but when the lovely Olly gave Mia-Jade his hat, she was over the moon! Katie said: "She talks about the wish non-stop and his hat is hanging in her room now!"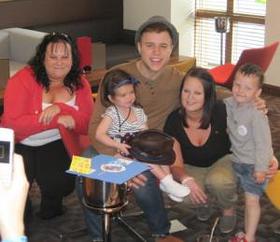 Mia-Jade enjoyed the rest of her day visiting Cadbury World before shopping for music and toys in the Bullring shopping centre. Mum Katie said: "It was just an amazing day. All she wanted was to meet Olly, but Make-A-Wish made sure she was treated like a princess for the day."
Katie is now hoping to organise a fancy dress sponsored walk in her local area to raise money and give back to Make-A-Wish.
The Make-A-Wish Foundation relies on your donations to make the wishes of sick children who face lives full of pain and challenges and uncertain futures come true. To make a donation, click here.
Source: MakeAWish.org.uk