UNICEF UK Ambassador Cat Deeley is calling on Marks & Spencer customers to support UNICEF by not taking hangers home when they buy clothes.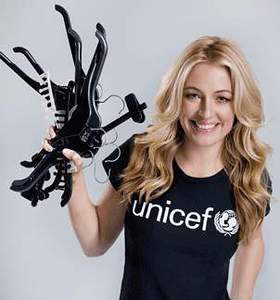 The TV presenter is supporting the new partnership, launched on 21 July, which will see M&S donate 50p for every £1 saved from hanger recycling to UNICEF.
The partnership aims to raise at least £1.9 million over three years to fund essentials like clean water, education and health care for children in two locations in the Mymensingh and Dhaka regions of Bangladesh.



"There are countries where children live in fear and without access to things like running water, education or healthcare," said Deeley. "We need to help these children. By joining with UNICEF, M&S customers will be able to make a real difference to children's lives – just by recycling hangers."


Marc Bolland, Chief Executive of Marks & Spencer said: "Just one box of hangers can provide a child with clean water for a fortnight. We believe our UNICEF partnership can make a big difference to families and communities in Bangladesh."
The M&S and UNICEF partnership launched in M&S stores on 21 July.