By Tim Saunders on
Justin Bieber and Britney Spears are among the stars showing their hearts for a new charity campaign to help a family involved in a tragic accident in Houston earlier this month.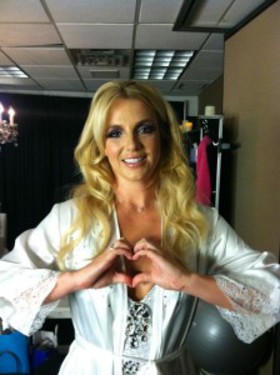 The Berry family were returning from a family road trip to Colorado on July 3 when their vehicle was struck head on by another car. Parents Joshua and Robin Berry were killed, while two of their three children have been left paralyzed from the waist down.
The Show Your Hearts campaign has been created to raise urgent funds to aid Peter (age 9), Aaron (8) and Willa (6), and to help in their rehabilitation, physical therapy, psychological support and education.
A number of stars – including Lady Gaga, Diddy, New Kids On The Block and Nicole Scherzinger – have already shown their support for the family through Twitter by using the hashtag #showyourhearts, and asking fans to change their profile pictures to the Show Your Hearts symbol (as shown by Britney above).
To donate to the Berry family's Show Your Hearts campaign, click here.