Sophia Bush has designed a limited edition bobble, the reusable water bottle that filters water as you drink, to raise proceeds in aid of The Nature Conservancy.
Sophia took part in the San Francisco Marathon in July and raised an impressive $50,000 through Crowdrise to support TNC, which aims to protect the lands and waters that plants, animals and natural communities need to survive.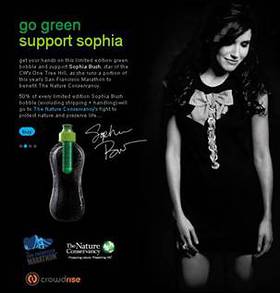 These limited edition bobbles are still available for purchase on www.waterbobble.com and 50% of purchases go to TNC.