A number of celebrities have joined a new charity initiative to raise money for vulnerable children across the globe by buying colors – and so can you!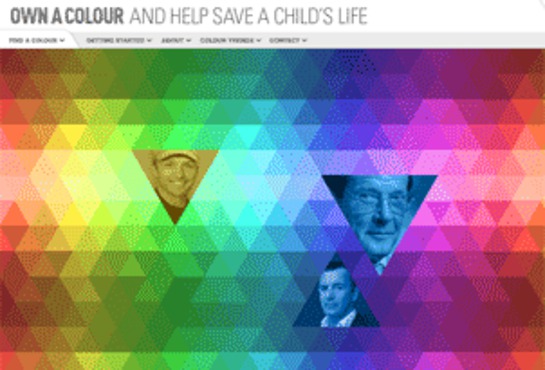 The Own A Colour website lets you buy and name your own personal color from a choice of over 16.7 million shades for a minimum donation of just £1 per color. All money raised goes towards UNICEF UK's work for children.


One happy customer is UNICEF Goodwill Ambassador Sir Roger Moore.
"I am the proud new owner of a shade of blue, which I have named Swedish Blue", said Sir Roger. "It is the color of the Swedish flag, the homeland of my very wonderful and very beautiful wife, Kristina, and not far off the cyan blue that represents UNICEF. Both Kristina and UNICEF are extremely close to my heart."
You might want to choose a color that's trending, a color near to one recently purchased by a celebrity supporter, or simply your favorite color.
Either way, once you've selected a color, it takes just a few minutes to register and make a donation. Then you can tell friends and family all about it through Facebook and Twitter.


Own a Color is powered by Dulux, who have already helped to improve the living environment of many people across the world through their Let's Color programme.
"Right now millions of children are failing to receive adequate healthcare, clean water or an education. Said David O'Brien, Global Innovation Director at Dulux. "Our team is pleased to be involved with developing this unique project."
Other stars to have bought colors include Duncan Bannatyne and Jemima Khan.


Visit www.ownacolour.com to buy your own color for a £1 and help transform a child's life. And watch a very special video from Roger Moore about the initiative here.