A group of influential business leaders from the United States and the United Kingdom, led by OneVoice Founder Daniel Lubetzky and Seinfeld actor Jason Alexander, met with Israeli President Shimon Peres on Tuesday.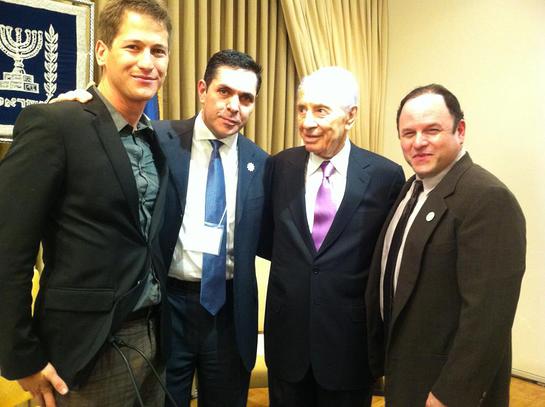 OneVoice Israel Executive Director Tal Harris, OneVoice Founder Daniel Lubetzky, President Shimon Peres, and OneVoice Entertainment Council member Jason Alexander
The delegation, which includes Fred Schaufeld of NEW Customer Service Companies, Pat Patterson of MacKenzie Patterson Fuller, and James K. Cummings of The Nathan Cummings Foundation, is visiting Israel and the West Bank this week to support the efforts of OneVoice's youth activists in building a movement for peace from the ground up.
"On the past, we cannot have but many voices, many narratives," said President Shimon Peres. "But on the future, we can and must be OneVoice."
President Peres asked the Seinfeld actor for advice to which Jason Alexander responded that "the best advice is to not give up." He added, "There's been so much disappointment, but there are wonderful people that are working very hard within both communities. The whole point of OneVoice is to give voice to the moderates on both sides and engage them in the process."
Both OneVoice Israel and OneVoice Palestine have been forging direct channels for communication between elected leaders and the grassroots. Last week, OneVoice Israel held a landmark event outside Tel Aviv's Cinematheque that saw 500 Israelis talk 'dooghri' (straight) with 30 prominent government and civil society leaders.
"We are proud not to be chained to the past, but instead to be at the forefront of the generation that works toward a solution – two states, two peoples, in OneVoice," said Tal Harris, executive director of OneVoice Israel, following the meeting with President Peres.
Find out more here. Photo via OneVoice Blog.
Source: OneVoiceMovement.org