NEST Fragrances, the leading luxury home fragrance manufacturer, has announced the introduction of Sir Elton John's Holiday to benefit the Elton John AIDS Foundation, one of the world's leading nonprofit HIV/AIDS organizations supporting innovative HIV prevention programs. The Sir Elton John's Holiday charitable candle and boxed votive set will debut at Bergdorf Goodman, Neiman Marcus and specialty stores nationwide beginning in October.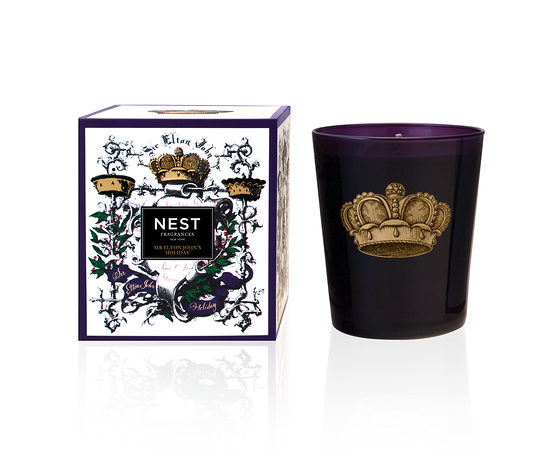 "Elton John loves candles…he is a true home fragrance aficionado," said Laura Slatkin, founder and CEO of NEST Fragrances. "When I launched my first company with my husband in 1992, Elton quickly became a Slatkin & Co. devotee. One day, we closed our shop so Elton could investigate and enjoy our fragrances in privacy; ever since that day, we have become good friends. We later came up with the idea of combining Elton's passion for candles and his dedication to helping those affected by AIDS, and we began a decade-long plus tradition of launching home fragrance collections to support the Elton John AIDS Foundation."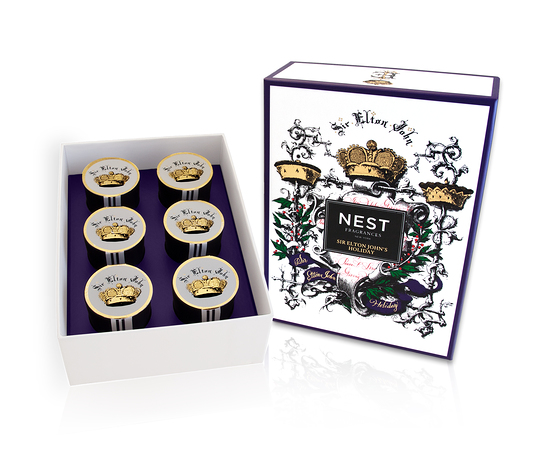 "Having the opportunity to work with Laura again to produce a stunning candle that will benefit my Foundation has been both rewarding and a great deal of fun," said Sir Elton John, founder of the Elton John AIDS Foundation. "I love scented candles and enjoy incorporating them into the décor for all my homes. This particular candle is very special. It not only looks gorgeous and smells sensational, but it will also offer consumers the opportunity to purchase festive holiday gifts for family, friends, and colleagues that will make a real difference in the lives of people affected by the HIV/AIDS epidemic."
The source of inspiration for the unique and unexpected design on the Sir Elton John's Holiday candle packaging and glass is based on an etching of a coat of arms crest belonging to a noble family that lived in Luxembourg during the 1800s. The design underwent creative modification with the inclusion of gold, red, and green seasonal holiday foliage drawn into the artwork. Bernard Maisner, an internationally renowned calligrapher, fine stationer and artist, added and blended in custom-made, hand-written calligraphic lettering in both a gothic style from the medieval era and an italic humanist script from the Renaissance period. The artwork similarly blends old and new in a playful and light manner, featuring majestic gold crowns and gothic calligraphy.
"When Bernard Maisner came to my office to discuss his design work, I took one look at his portfolio and said, 'You must do something special for my friend, Elton John,'" continued Slatkin. "Maisner's work is so steeped in the tradition of royal engravings it was a natural fit. It was Elton's idea to add the deep aubergine color to the candle glass, which took the collection to a whole new level of sophistication."
Featuring a delightfully festive fragrance blend of evergreen and balsam fir needles combined with rich woods and a sparkling citrus accord, Sir Elton John's Holiday is available in an 8.1 oz. candle for $38 (SRP) and a six-pack boxed votive set for $54 (SRP). A portion of the proceeds from the sales of Sir Elton John's Holiday will benefit the Elton John AIDS Foundation.