By Tim Saunders on
The Who's Roger Daltrey and Pete Townshend have announced a new teenage cancer program at UCLA based on similar initiatives run by the Teenage Cancer Trust in the UK.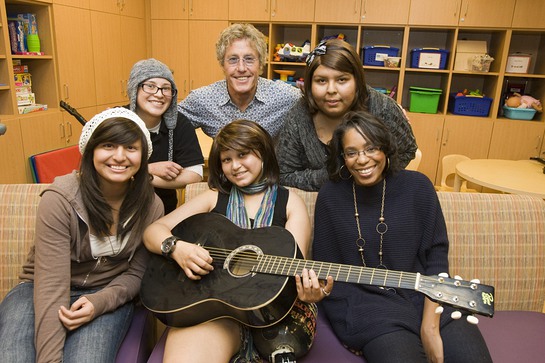 Photo: Rock icon Roger Daltrey of the Who visits pediatric cancer patients at Ronald Reagan UCLA Medical Center.
The Daltrey/Townshend Teen & Young Adult Cancer Program will be housed at UCLA, and will provide a comforting environment where young patients can stay in rooms around a common lounge where they can provide emotional support to each other.
The center aims to treat teens as teens, not as children or adults.
"Adolescent care up until now has been a teenage wasteland," said Daltrey. "Every generation of rock musician will understand that we wouldn't be anywhere without the support of teenagers buying the records. Just put yourself back on the line. It's very easy — just be there when they ask for you."
Led Zeppelin frontman Robert Plant was also at the facility's announcement in LA last week, although Pete Townshend was unable to attend. Daltrey and Plant autographed a guitar to be hung on the wall of the new center.
"We hope to bring the success of the Teenage Cancer Trust program in the U.K. to this inaugural program at UCLA," Plant said. "The caring and support the program provides have made a huge difference in the lives of many teens and young adults who are battling cancer."
"We feel confident that this historic partnership and the launch of the first Daltrey/Townshend Teen & Young Adult Cancer Program in America will establish a more truly healing environment for our adolescent patients and set the stage for an expansion of the program to medical institutions across the United States," added Dr. David Feinberg, CEO of the UCLA Health System and associate vice chancellor for health sciences.