Celebrities including Steven Tyler, Al Roker, Katherine Heigl, Kristin Chenoweth and Raven Symone have been recreated as unique, one-of-a kind Cabbage Patch Kids that will be auctioned on eBay, with proceeds benefiting Children's Action Network (CAN), a national adoption awareness organization dedicated to finding homes for children in the U.S. who are in foster care.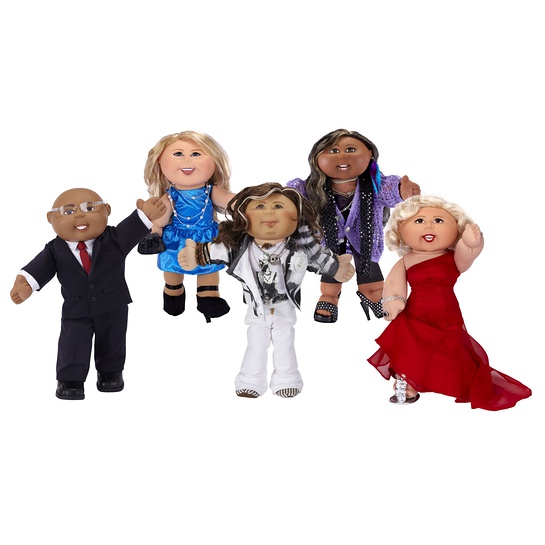 The exclusive Celebrity 'Kids were created to be auctioned by leading U.S. toy company JAKKS Pacific to raise awareness and much needed funds for this notable charity and to celebrate the rich tradition of the loveable and adoptable Cabbage Patch Kids during the National Adoption Month of November.
Launching today on eBay Giving Works through November 17, fans of Steven Tyler, Al Roker, Katherine Heigl, Kristin Chenoweth, and Raven-Symone can go to cpkauctionforcharity.com to bid on the one-of-a-kind Celebrity Cabbage Patch Kids created in the likeness of these famous singers, actors and TV personalities. Auction Cause, an online cause marketing agency, will manage the auction.
Distinctive features of the Celebrity 'Kids include Steven Tyler's rocker inspired outfit and mic stand; Al Roker's signature glasses and tailored suit; Katherine Heigl's favorite red carpet couture; Kristin Chenoweth's royal blue ball gown; and Raven-Symone's trendy romper and blinged out platform heels. JAKKS Pacific worked closely with each celebrity to make sure their one-of-a-kind 'Kid embodied their individual look and personality. Each Celebrity 'Kid, will also come with its own autographed birth certificate.
All proceeds of the Steven Tyler, Al Roker, and Raven-Symone Celebrity 'Kids will benefit CAN, while Kristin Chenoweth and Katherine Heigl are donating 50 percent of funds to CAN and the other 50 percent to Maddie's Corner and the Jason Debus Heigl Foundation, respectively.
"As a father, there is no difference between a biological child and an adopted one," said Al Roker, co-host of the Today Show. "Being a part of this auction is very meaningful to me as I have an adopted daughter and grew up with adopted siblings. This auction is significant in bringing more awareness to children's issues and hopefully will result in better outcomes for the many kids in the foster care system."
"I'm excited to be part of this auction to raise money and awareness for foster children," said actress Katherine Heigl. "Adoption is a cause very close to my heart as I have an adopted older sister and an adopted daughter. This auction is important to show the world how many adoptable kids are in great need for stable and loving homes."
"This auction brings together the beloved and iconic Cabbage Patch Kids, with its long tradition of adopting loveable 'Kids, and the benevolence of this wonderful group of charitable-minded celebrities for a noteworthy cause," said Jennifer Caveza, senior vice president of marketing, JAKKS Pacific. "As a toy company that is dedicated to helping children smile, play and succeed, we are pleased to work together with Children's Action Network and do what we can to help foster kids who are in great hardship and bring much needed attention to children's issues as a whole."
"We are pleased to be chosen as the main beneficiary of this wonderful and creative auction of one-of-a-kind Celebrity Cabbage Patch Kids," stated actor and Board Director of Children's Action Network, Henry Winkler. "With so many children in the foster care system, there is tremendous need for support from our community. The funds raised in this auction will help bring programs and services to these deserving children."