Christina Hendricks, in partnership with Allergan, Inc., is calling on women to help her in a final push to raise $500,000 for the Make-A-Wish Foundation by November 30 through the LATISSE Wishes Challenge – a campaign inspired by the tradition of blowing on an eyelash to make wishes come true.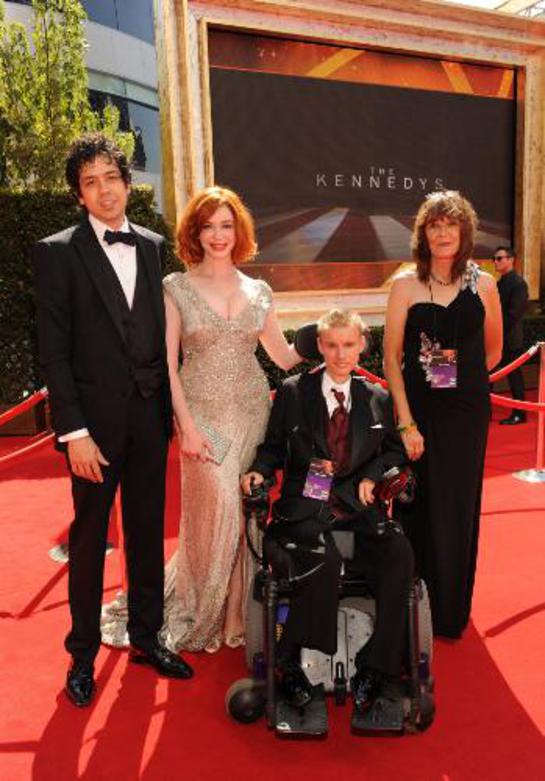 Christina Hendricks and Geoffrey Arend at the 63rd Primetime Emmy Awards with David and Diana Kumferman. Photo via Make-A-Wish Foundation
Since its launch in June 2011, participants in the LATISSE Wishes Challenge have helped to raise more than $390,000 for the Make-A-Wish Foundation, but $110,000 is still needed to meet the campaign goal and help grant a wish in every Make-A-Wish chapter across the country.
With just weeks until the campaign's close, Hendricks, a LATISSE user, is urging women to help by donating a minimum of $20 on www.LatisseWishesChallenge.com by November 30. As a thank you, the first 10,000 participants making the minimum $20 donation will receive a free trial certificate for a one month's supply of LATISSE – the first and only prescription treatment approved by the U.S. Food and Drug Administration (FDA) to grow lashes longer, fuller and darker for those with inadequate or not enough lashes (eyelash hypotrichosis) – to take to a doctor to determine if LATISSE is right for them. Campaign participants who invite two friends to support the campaign will also receive a $20 rebate off their next purchase of LATISSE.
"Every donation counts towards making a child's wish come true," said Hendricks. "I had the honor of helping to grant a wish for 17-year-old David who wanted to attend the Primetime Emmy Awards. It was a pleasure to escort David and his family on the Red Carpet at this year's awards and to know that David enjoyed 'star treatment' that day. There are so many other wishes to grant to courageous children like David, and I hope women will join me in supporting the Make-A-Wish Foundation by participating in the LATISSE Wishes Challenge.
"I also hope that women take advantage of the opportunity to receive the free trial certificate for LATISSE. My lashes have always been thin and light in color, and over time, I know they will continue to thin out even more. I talked to my doctor about LATISSE and have been using it nightly for 16 weeks now to grow my lashes longer, fuller and darker. I am thrilled by my lash results and encourage women interested in LATISSE to visit www.LatisseWishesChallenge.com to support the Make-A-Wish Foundation and ask their doctor if LATISSE is right for them."
Women can join the LATISSE Wishes Challenge by November 30 to support the Make-A-Wish Foundation, learn more about LATISSE and see the results of Hendricks' full 16-week use of LATISSE at www.LatisseWishesChallenge.com. Women can also stay connected to the LATISSE Wishes Challenge on Twitter via @WishesChallenge and on Facebook.