Olivia Wilde joined Swarovski, the leading designer and producer of fashion jewelry and crystal decor objects, earlier this week to unveil the 2011 Swarovski star crowning the world-famous Rockefeller Center Christmas Tree.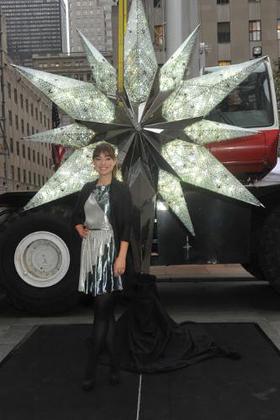 Photo: Swarovski North America, Diane Bondareff
"This is such a magical time of year," said Wilde. "I'm proud to help Swarovski make the holidays sparkle with this wonderful tradition."
This holiday season marks the 20th Anniversary of Swarovski's Annual Edition Christmas ornament. To celebrate, the brand will auction five one-of-a-kind artworks inspired by the ornaments from artists Mark Boomershine, Christina Burch, Wojung Choi, Natasha Law, and Irina Volkonskii to benefit The Art of Elysium. Several of the works were unveiled to the public at the star rising, and will remain on view at Swarovski's Rockefeller Center store throughout the holiday season. For more information or to bid, visit www.swarovskiauction.com.
"We are excited Olivia joined us today to unveil the 2011 Swarovski star and these exclusive artworks," said Wayne Page, Vice President of Operations for Swarovski North America Limited's Consumer Goods Business. "Her elegance and style align perfectly with Swarovski's vision."