All Blacks rugby legend Jonah Lomu has taken on an important new role as Ambassador for UNICEF in New Zealand.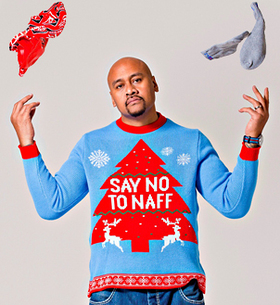 "My kids mean the world to me," Jonah said. "UNICEF is an amazing charity doing so much globally to make a difference for children. I'm so proud to call myself an Ambassador."
"Jonah Lomu is a hero to so many New Zealanders, young and old, so we're very excited that he has joined the UNICEF team," said Dennis McKinlay, Executive Director of UNICEF NZ. "We strongly believe in sport and play because they are vital elements in the health, happiness and well-being of children and young people, so Jonah is the perfect fit. We're looking forward to a long partnership together."
Jonah's first job as Ambassador is fronting UNICEF NZ's Say No to Naff campaign, which encourages people to buy an UNICEF Inspired Gift this Christmas instead of giving "naff" presents to loved ones.
"We've all received (and probably given!) the odd dodgy Christmas gift in our time, so this year why not Say No to Naff and instead buy an Inspired Gift from UNICEF?" says Jonah. "You'll be changing kids' lives in over 60 countries all over the globe from Cameroon to Cambodia – that's the kind of gift I think all of us would want to receive under the Christmas tree."
Jonah joins Hayley Westenra as an ambassador for UNICEF NZ.