A new celebrity charity album has been released for a good cause just in time for Christmas.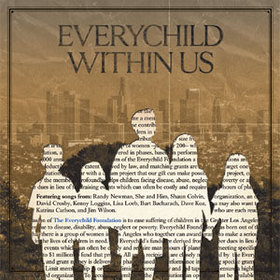 The Everychild Within Us CD features brand new, unreleased music from Zooey Deschanel's She and Him and Burt Bacharach, as well as music by singer-songwriters such as Randy Newman, David Crosby, Shawn Colvin, Kenny Loggins, Lisa Loeb and Katrina Carlson. The new album also includes songs by Dave Koz and Jim Wilson.
Free sample audio streams from the CD are available here.
The Everychild Within Us CD is available for $12 from the Everychild Foundation. All proceeds go to projects supported by Everychild Foundation grants filling critical unmet needs of children.
"It is with great pleasure that I support the good work that the Everychild Foundation does helping children in need," says music legend David Crosby.
The dream of the Everychild Foundation is to have a society where no child suffers from disease, disability, abuse, neglect or poverty. Each year, Everychild annually seeks out and funds a new project directly serving children with tangible results. The goal is to launch new prototypes that can inspire replication across the nation and even worldwide, thus leveraging the grant.
The Foundation also advocates for legislative and public policy changes to assist unaccompanied homeless youth, children in the juvenile justice and foster care systems, and those in the zero to five age group. Everychild is a volunteer organization funded by member dues and contributions. It pays no salaries, no rent and does not host fundraising galas.
"Some of America's most legendary musicians have come together to make a difference for children in crisis right here in the United States," says Jacqueline Caster, Founder and President of the Everychild Foundation. "This album not only provides an array of uplifting songs, but is also interspersed with the actual voices of kids from the gang-ridden neighborhoods of Los Angeles whose dreams of a better future are alive and strong. Proceeds from this compilation album support the work of the Everychild Foundation which works to make these dreams a reality by funding new projects to assist children suffering from disease, disability, abuse, neglect or poverty."
Find out more about the Everychild Foundation here.