Lauren Bush is the latest star to blog for the US Fund for UNICEF's 12 Days of UNICEF Christmas campaign.
Every day for 12 days, a UNICEF celebrity supporter is blogging about some of the gifts available this Christmas that benefit the organization's work.
"One of my favorite things to do during the holidays is to make and decorate cookies with friends!" blogs Lauren. "It's always fun getting together so we try to do this every year. Beyond this holiday tradition, I have also made it my mission to help children around the world who suffer from malnutrition and hunger. I have traveled to many countries and learned about the realities of poverty and hunger firsthand.
"As a result, in 2007, I co-founded FEED Projects, a charitable company with the mission of creating eco-friendly products that help FEED the world. FEED products such as our FEED bags have provided funding for UNICEF's nutrition programs for children.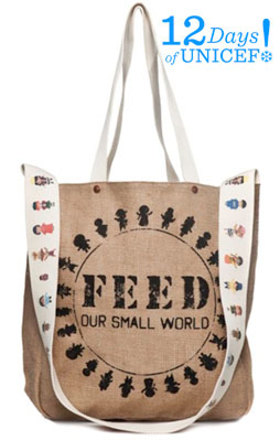 "The latest FEED initiative benefiting UNICEF celebrates Disney's beloved attraction through the "Disney It's A Small World" collection, inspired by the original artwork of Mary Blair. The FEED Projects items from the collection include a tote, a bib, an infant bodysuit and pants set, and a tee for girls and boys, available at Nordstrom stores in the U.S. and online, as well as the FEED website: feedprojects.com.
"For each "'FEED Our Small World" product purchased, FEED will make a donation to the U.S. Fund for UNICEF to help UNICEF provide children with an entire year's worth of Vitamin A supplements. In addition, The Walt Disney Company has made a donation to the U.S. Fund for UNICEF in honor of the collection's launch."
Read LookToTheStars.org's exclusive interview with Lauren here.