Starkey Hearing Foundation, which strives to change the social consciousness of hearing and hearing health care, wrapped up its first-ever hearing mission in Bushridge, Mpumalanga, South Africa last week with the help of Sir Richard Branson and his not-for-profit organization, Virgin Unite.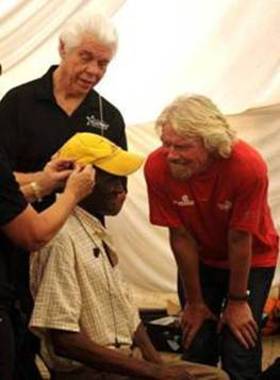 Sir Richard Branson observes as Bill Austin, Founder, Starkey Hearing Foundation, and his team of audiologists fit patients with hearing devices during the Foundation's first-ever hearing mission in Bushridge, Mpumalanga, South Africa.
For this first-time mission working with Sir Richard Branson and Virgin Unite, Starkey Hearing Foundation provided 490 under-served, hearing-impaired children and adults with hearing aids during the one-day mission at Branson's Bhubezi Health Clinic.
Sir Richard Branson assisted as the Foundation's team of audiologists and staff fit each of the people from the community with their own custom-mold, hearing device. "It was absolutely amazing to watch someone hear their first sounds. Starkey Foundation have profoundly impacted the lives of these 490 people and enabled them to live even fuller lives – something they all deserve," said Sir Richard Branson.
Starkey Hearing Foundation's Bhubezi hearing mission is one of dozens of missions conducted each year by the Foundation both domestically and internationally. Hearing missions are the primary way Starkey Hearing Foundation realizes its goal so the world may hear. In turn, the Foundation has set a target of fitting 1,000,000 hearing aids for individuals in need by the end of this decade. While this is the Foundation's first mission in Bushridge, Mpumalanga, South Africa, the organization has conducted several hearing missions to the continent, including a 24-day mission through Kisumu and Nairobi (Kenya); Kampala and Gulu (Uganda); Ruhengeri and Kigali (Rwanda); Bujumbura (Burundi); Pemba Island; and Zanzibar (Tanzania) earlier this year.
The Bhubezi Clinic is the one stop clinic for basic healthcare, TB and HIV/AIDS care. It is an innovative public-private partnership to tackle HIV/AIDS and improve healthcare in the one of the most impoverished areas of South Africa. Virgin Unite helps to incubate new "social enterprises" that bring together our companies and partners together to create sustainable, entrepreneurial approaches to social and environmental issues.
Virgin Unite focuses on entrepreneurial approaches to world issues. Branson and Virgin Unite are keen to work with entrepreneurial organizations to pool their talents and experience for good, which is what happened with the Starkey Foundation. A group of Virgin Unite's global guests were also at the hearing aid fitting session and they included the USactor Christian Slater; this group was part of Virgin Unite's regular "Connection trips". The Virgin Unite Connection Trip sees a group of global entrepreneurs coming together to support their initiatives, to see them first hand and experience truly life changing experiences, as they did at this hearing fitting clinic.