Three young budding actors recently got their first big break as extras in the filming of "We Bought a Zoo" as part of their Make-A-Wish Foundation experience.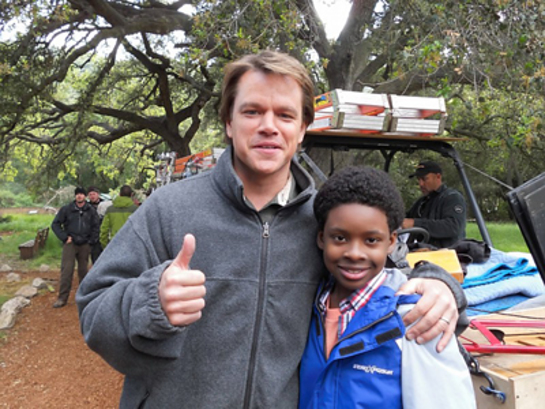 Marlen, 16, from San Francisco, Charles, 12, from Markham, Illinois, and Joshua, 12, from New Caney, Texas, got the star treatment, with a personal trailer, and hair, makeup, and wardrobe support.
The wish kids participated in the filming of multiple scenes, which may or may not be included in the final film, and were thrilled to meet, take pictures with, and get autographs from stars of the movie Matt Damon and Scarlett Johansson, as well as director Cameron Crowe, also known for directing "Jerry Maguire," "Almost Famous," and "Say Anything."
All three wish kids gushed about their day on the set as "wonderful," "fantastic," and "the best experience of my life."
Based on a true story and adapted from a book by Benjamin Mee, "We Bought a Zoo" is about a recently widowed father, Mee, played by Damon, who moves his young family to the English countryside and purchases a dilapidated zoo of 200 exotic animals and the trials and tribulations associated with trying to rebuild the zoo, and his life. Produced by 20th Century Fox, the film is scheduled for release on December 23, 2011.
"The opportunity to be actors in the filming of a major motion picture was a dream come true for these wish kids and we hope just the starting point of long and illustrious Hollywood careers," said David A. Williams, president and CEO of the Make-A-Wish Foundation of America. "We invite filmgoers to join us in watching the movie and looking for whether they see our wish kids in any of the scenes."
Marlen has a life-threatening autoimmune disorder, Charles has Hodgkin's lymphoma, and Joshua has acute lymphatic leukemia.