NASCAR driver Jeff Gordon has blogged about his incredible trip to Rwanda with the Jeff Gordon Children's Foundation in December.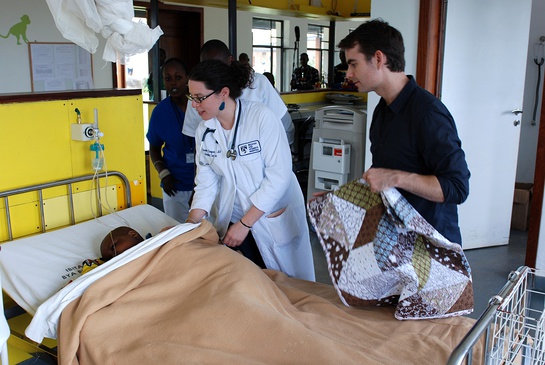 "Our journey began from the United States in New York on Tuesday, December 6," he writes. "After a few hours of sleep and breakfast, we were off to visit our first of three hospitals in Rwanda. Our first stop was at CHUK, which is a hospital in the capital city of Kigali. We toured the facility and visited with some of the families.
"The Ministry of Health has made great strides in their national healthcare system; however our hospitals in the United States differ greatly from those in Rwanda. The unfortunate fact is that the equipment and treatment that many of the patients desperately need is not readily available. We met one young child who we were told has been in the hospital for four months suffering from a form of pediatric cancer that is easily treatable in the U.S., but had not received treatment because the hospital did not have the needed resources. This child was on the brink of death. The emotions and thoughts that race through your mind as you see first-hand the pain, suffering and helplessness of these children is something you can't describe. You want to help. You want to change it. You want to make a difference. In your mind, you know that not only are the children suffering, but also the parents as they are forced to bear the pain of seeing their suffering child slip away.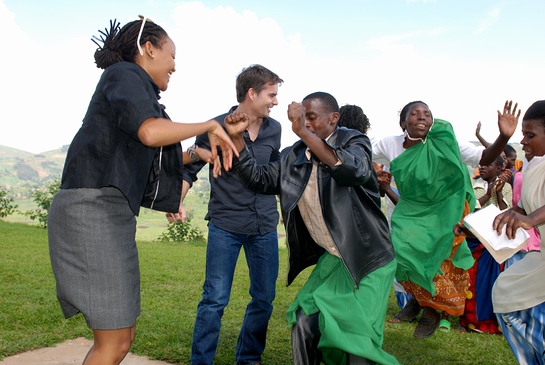 "From there, we had a two and a half hour drive up a bumpy and hilly dirt road to Rwinkwavu. Rwinkwavu is a hospital that is administered by Partners in Health, which is the organization that the Jeff Gordon Children's Foundation has partnered with for our efforts in Rwanda. The landscape and topography of Rwanda is absolutely beautiful, and the view from the hospital in Rwinkwavu is amazing. We toured the grounds before going to the pediatric cancer wing to visi t with the children.
"Prior to the trip, the women of The Promise Circle (an amazing group of women who support the Jeff Gordon Children's Foundation) sewed nearly 100 handmade quilts that we took with us to give out while we were there. Ella helped Ingrid, Trish (Director of the Jeff Gordon Children's Foundation) and I pass out the quilts to both the children and their mothers. I've never been more proud of anything in my life. To see our 4-year old daughter go through the room and give out these quilts with such compassion and tell each of them, 'I hope you feel better', is something that makes you so proud as a parent.
"The people of Rwanda are amazing. They are so happy and have great personalities despite their circumstances. Everyone was so grateful for the quilts, and a heartfelt thanks to The Promise Circle for providing them.
"I wish I could tell you that everything we saw was great, but sadly it was not. These children were suffering from many different things – some with cancerous tumors, some with breathing issues related to cancer, some who had lost all of their hair. In addition to the disease, the hospital staff has to drape mosquito nets over the children's beds in an attempt to prevent them from also catching malaria. These images will never leave my mind.
"Our trip to Rwanda was truly a life changing experience. It has completely changed my perspective on virtually every aspect of life. Once you've seen the incredible hardships and pain that these children face, you will see that we have to help. I've challenged myself to not only continue the work of the Jeff Gordon Children's Foundation and my efforts personally, but to do more because a child suffering from cancer is a child suffering from cancer. The location of the child or their skin color does not matter. They are all innocent children and they deserve the right to live, be healthy and enjoy life. That doesn't mean we're in anyway scaling back our support for pediatric cancer care and treatment in the United States. It means t hat we're committed to doing more. I hope that you will join me. Let's be a team and race to a victory lane where children are not faced with the threat of childhood cancer."
To read the full blog of Jeff's 7 day trip, click here.