By Myrlia Purcell on
Pop-Rock band Jonas Brothers, took time out during a recent guest appearance on "Jimmy Kimmel Live!" to sign an Epiphone guitar, courtesy of Gibson Guitars in support of the Entertainment Industry Foundation's Revlon Run/Walk For Women. The guitar, along with the pen Kevin, Joe and Nick used to sign it, is currently available on CharityFolks.com.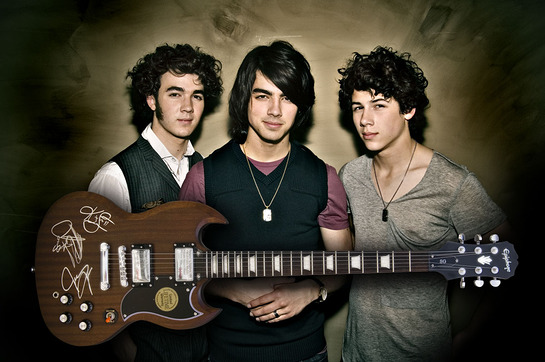 The Revlon Run/Walk for Women takes place annually in New York and Los Angeles, with the 15th Annual Entertainment Industry Foundation Revlon Run/Walk for Women Los Angeles taking place this Saturday, May 10. Our own Crystal A. Johnson is set to take part in this celebrated event. The New York Run/Walk took place on May 3rd.
Hosting the LA event this year are Halle Berry, Tom Selleck, Beau Garrett and Carrie Ann Inaba. Funds raised help further research into finding a cure for women's cancers. For more information, visit the LA Run/Walk For Women website.
(Photo copyright ABC)