Sport Relief has launched its 2012 T-shirts, and have enlisted the help of stars such as Amy Childs, Olly Murs, Kara Tointon and Stacey Solomon to help model them.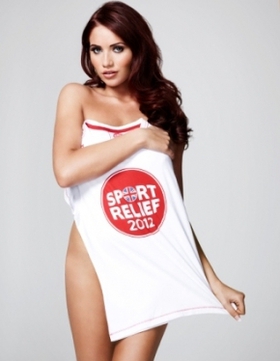 The excusive Sport Relief range includes the official 2012 Sport Relief T-shirt, available in both kids and adults sizes, plus three styles of Limited Edition T-shirts, available in Men's & Women's sizes. The T-shirts are available right now in Sportsdirect.com's 400 stores and online.
"Like me you don't need to be sporty to get involved with Sport Relief," said Amy Childs. "Something as simple as buying an official Sport Relief T-shirt from SportsDirect.com will help transform lives in the UK and across the world's poorest countries. Trust me, the only way is to buy the t-shirt, look fantastic and know you're doing your bit.'
For the first time ever, customers are able to personalise their official 2012 Sport Relief T-shirt by adding letters and numbers on the back to give their T-shirt its own unique look. The personalisation service will be available both in-store and online at Sportsdirect.com.
The T-shirts, which are all made from 100% fair trade cotton, will retail at £8 for the adult T-shirt and £6 for the junior, with £4 of the proceeds of the adult shirt and £2 of the junior shirt coming directly to Sport Relief to help change lives.
Source: Sport Relief