With the help of a star-studded line up of football and entertainment legends, Starkey Hearing Foundation – which strives to change the social consciousness of hearing and hearing health care – delivered the gift of hearing this weekend to more than 250 hearing impaired children and adults from the Indianapolis area ranging in age from 3 to 92.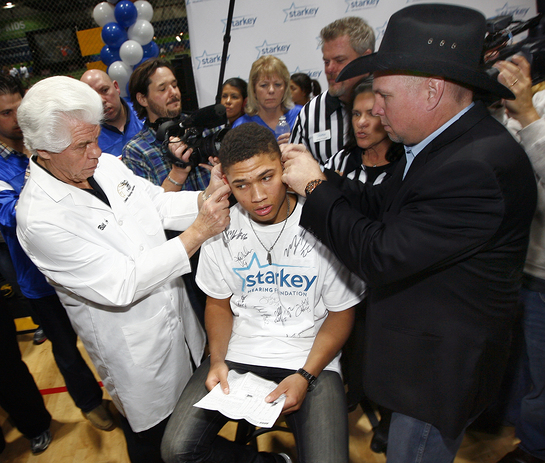 The event, which marked the Foundation's 3rd annual Super Bowl Week Hearing Mission, was held at the SportZone in Indianapolis.
In what has become an annual tradition for Starkey, the Super Bowl Hearing Mission received help from a "super" team of Foundation friends, including country music legend Garth Brooks and Canadian singer Justin Hines, as well as NFL players Dallas Clark, Indianapolis Colts, Larry Fitzgerald, Arizona Cardinals, Eric Wood, Buffalo Bills, Andy Levitre, Buffalo Bills, William Witherspoon, Tennessee Titans, Ryan Kerrigan, Washington Redskins, Jim McMahon, Chicago Bears, Joe DeLamielleure – NFL Hall of Famer – Buffalo Bills, Matt Forte, Chicago Bears, Tommie Harris, San Diego Chargers, and Mike Gaines, formerly with Houston Texans.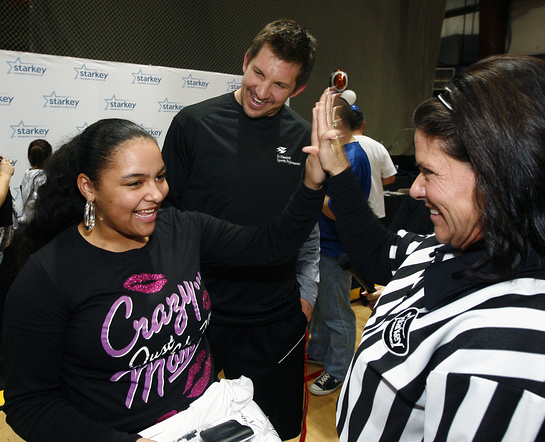 These celebrity volunteers joined Bill Austin, Founder of Starkey Hearing Foundation, and his team of experts in fitting local children and adults with state-of-the-art, custom-made hearing aids. The Foundation's distribution of hearing aids is part of their mission so the world may hear, and goal to distribute 1,000,000 hearing aids by 2020.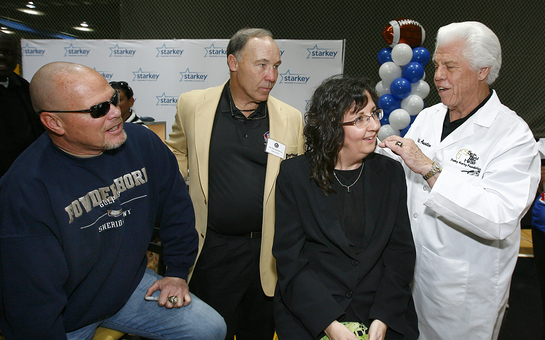 Among the day's recipients was Catherine Donaldson, a legally deaf 52-year-old single mother of six from Indianapolis whose 15-year-old daughter wrote Starkey Hearing Foundation to help surprise her mother with a new set of hearing aids. "I am asking in the hopes that your company could help me surprise my mom with new hearing aids, because she will never complain or ask for this help, when she desperately needs it," said Michelle Buckallew in a letter to the Foundation. "I'm hoping with all your mission trips you have done, you can find a way to help me with my mom." Michelle's letter reached Austin, and her wish was granted. Catherine, who was only expecting to receive ear impressions to have hearing aids made at a later time once she was able to afford them, was surprised with a new set of state-of-the-art hearing aids.
"Giving the gift of hearing is what we do," said Bill Austin, Chief Executive Officer of Starkey Hearing Technologies and Founder of Starkey Hearing Foundation. "Hearing is what we give and share with the world that they may smile, laugh, and enjoy a life previously unavailable to them due to a hearing loss disability." According to Starkey Hearing Foundation, an estimated 63 million children worldwide suffer from hearing loss. In the U.S., 34 million Americans, or one in 10, live with hearing loss or a hearing disability.
The Starkey Hearing Foundation's Super Bowl Week Hearing Mission is one of dozens of missions conducted each year both domestically and internationally. The Super Bowl week mission included the precise fitting of custom-made, state-of-the-art hearing aids for each recipient, along with testing, batteries, counseling and instructions on follow-up care.
Photos: Los Enterprises for Starkey Hearing Foundation