Sting's latest tour – titled Back To Bass – is providing a platform for Amnesty International to raise awareness on the organization's campaign against oil pollution and human rights abuse in the Niger Delta region in Nigeria.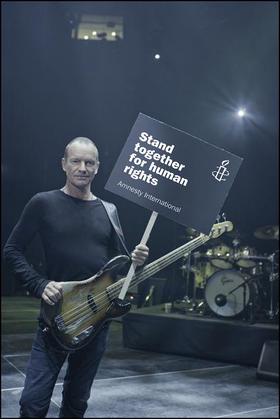 "I've long admired Amnesty International's effectiveness, dignity and sense of commitment. We go back a long way and I'm proud to support their work in any way I can." said Sting.
From Amnesty.org: "For more than two decades, Sting has been a proud supporter of Amnesty International and our work to promote human rights worldwide. This longstanding relationship continues today, as Amnesty volunteers will organise information booths, highlighting the Clean Up the Niger Delta campaign, at venues along his 2012 "Back to Bass" tour.

"Sting's support for Amnesty International began in 1981, when he performed at "The Secret Policemen's Other Ball" benefit concert in London. Over the years, he has participated in several concert events, tours, and album recordings. Most recently, he recorded a version of Bob Dylan's "Girl From The North Country" for the compilation Chimes Of Freedom: The Songs Of Bob Dylan Honoring 50 Years of Amnesty International, released in support of Amnesty's human rights work.
 

"This year, Amnesty volunteers along the "Back to Bass" tour will offer literature to concertgoers on behalf of our "Shell: Own Up, Pay Up, Clean Up" petition, calling on Shell to pay an initial amount of $1billion (£645m) to establish a clean-up fund for the Niger Delta and start clean-up and compensation for the affected communities. The campaign is also calling for Shell and other multinational oil companies operating in the Delta to pay for a comprehensive assessment of the oil pollution in the whole of the area. A recent report from the United Nations Environment Programme exposed severe oil contamination in the Niger Delta – one of Africa's most bio-diverse regions."
Click here for more.