The Duchess of Cambridge may have been almost 8,000 miles away from Prince William for Valentine's Day, but she didn't just sit around the house missing him – she spent the day visiting charities in Liverpool.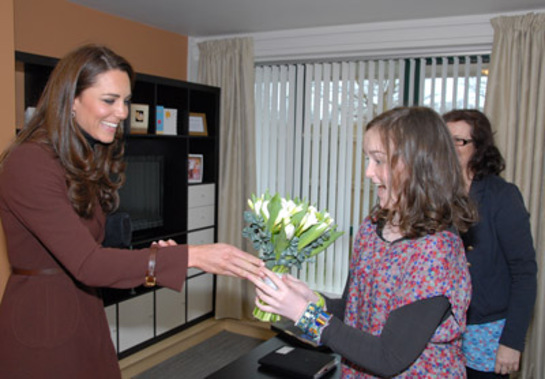 Photo via AlderHey.co.uk
The Royal met children and staff at the local Ronald McDonald House before heading to Alder Hey Children's Hospital, the largest children's hospital in Europe. Since 1914, the hospital has led the way in the care of sick children and now treats more than 200,000 young patients every year.
During the visit on Valentines' Day, the Duchess met patients and staff in Alder Hey's Burns and Oncology Units and was also given a tour of the hospital's facilities, including the 3-T Intra-operative MRI scanner. The MRI facility, which was funded by a £3million donation from The Barclay Foundation, was officially opened by HRH Prince William of Wales during a visit to the hospital in 2010. Alder Hey remains one of only a handful of paediatric centres in the world with this type of equipment. The visit ended with patient's showing the Duchess the exciting designs for Alder Hey's new hospital, due to be publically unveiled next month.
The Duchess spent time meeting patients and families outside the hospital entrance before meeting seven year old Aimee Haswell, who presented the Duchess with a special posey. Aimee, a patient at Alder Hey since she was just nine days old, spoke to the Duchess before she entered the hospital.
The Duchess also visited Ronald McDonald House at Alder Hey where she met patients and families staying at the House along with staff and volunteers. She then unveiled a plaque to officially open new family apartments at the House. The House is the largest of its kind in the world and provides free accommodation for the families of some of Alder Hey's sickest children. Many of the families stay for months and even years. They come from all over the UK and further afield from across Europe. Along with providing much needed space, privacy and a sense of normality, the new apartments will be particularly beneficial for families of patients who are treated at the hospital for six months or more.
The Duchess also spent time at The Brink, an alcohol-free bar run by Action on Addiction, of which she is patron.
"Thank you so much, your Royal Highness, for being here today," Jacquie Johnston-Lynch, head of service at Action on Addiction in Liverpool, said. "This is just such an incredible honour. Anything that can put recovery on the map is 100% amazing."
Source: AlderHey.co.uk