Ricky Gervais has helped launch a new global organization to end cosmetics tests on animals.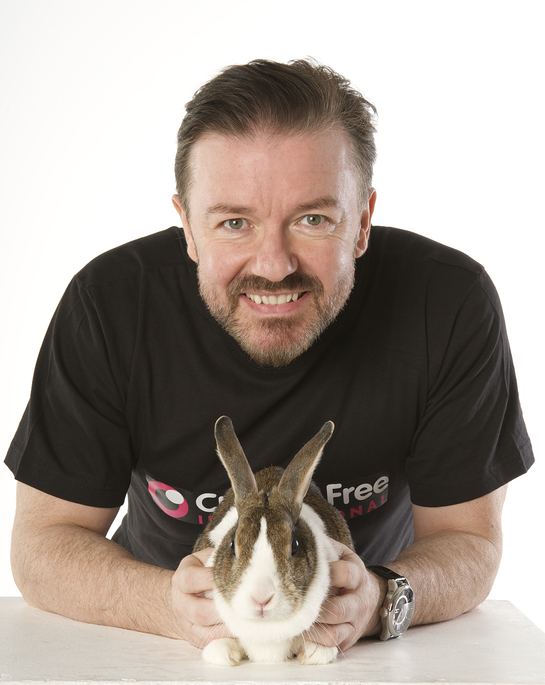 The star features in a new video for Cruelty Free International – established by the BUAV, one of the world's longest standing and most respected animal protection organizations – to work with governments, regulators, companies and partner organizations worldwide. Cruelty Free International will place the issue of animal testing on the agenda of many governments for the very first time as part of a global strategy to tackle product testing. An internationally coordinated campaign will be launched with national campaigns run from regional hubs.
"I am delighted to support the launch of Cruelty Free International, the exciting global campaign to end the use of animals in product testing," said Ricky. "Animal testing for cosmetics is still allowed in most of the world. That means thousands of animals can continue to die for the sake of a new shampoo. We urgently need a worldwide ban on this cruel and unnecessary suffering.
"It's time to close the door on testing products on animals. Get involved. Please join me in supporting Cruelty Free International in its global mission to consign animal testing for cosmetics to the history books."
There is no worldwide ban on animal testing for cosmetics. Despite progress with some countries and companies, over 80% of the world still allows animals, including rabbits and guinea pigs, to be used in cruel experiments. In a global market it is important that all countries ban the practice to avoid testing simply moving around the world to those countries with no effective laws.
Cruelty Free International Chief Executive, Michelle Thew, stated: "We are delighted to receive the backing of Ricky Gervais for this exciting and dynamic organisation. The time has come for a concerted effort to finally end animal testing for cosmetics worldwide. Cruelty Free International will lead this global effort."
Traditionally, cosmetics have been tested on animals, although in the majority of the world such tests are not specifically required by law. To market a product a company must demonstrate its safety but this can now be done using approved non-animal tests and combinations of existing ingredients that have already been established as safe for human use. There is an increasing awareness of the pain and suffering inflicted upon animals for product testing as well as growing pressure to replace out-dated animal tests with superior non-animal methods, which are scientifically more valid and relevant to humans.
To watch Ricky's video, click here. Visit CrueltyFreeInternational.org.