On Monday night, the most generous hearts of New York City came together at the Ronald McDonald House New York's 20th Annual Gala to celebrate two decades of giving to help families and their children battling pediatric cancer.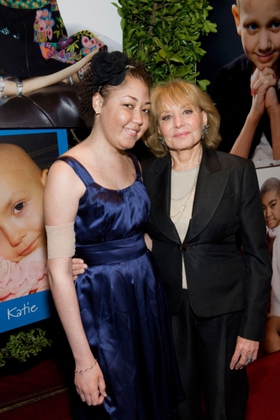 This year's theme of "20 Reasons to Celebrate" struck a strong chord among the crowd gathered to help raise much needed funds for this temporary 'home away from home' for pediatric cancer patients and their families. Held at the Waldorf-Astoria, the 20th Annual Gala Event surpassed its goal to raise nearly $3.5 million. ABC-TV broadcast personality Barbara Walters was at the helm of the evening's festivities for the second year in a row.
"This year's gala represents a major milestone for us at Ronald McDonald House New York. For twenty years, New York City has turned out in impressive numbers to help raise money that gives hope to families who are desperately in need of a place to stay and fulfill their many needs when their child has cancer," said Stanley B. Shopkorn, chairman of the Ronald McDonald House Board of Directors, and managing partner of Hilltop Park Associates LLC. "Our organization is very fortunate to have the support of New Yorkers as we continue to raise money to further this very important mission."
Each year, Ronald McDonald House New York celebrates the work of two very special honorees. Mr. Gregory Fleming, president of Morgan Stanley Investment Management & Morgan Stanley Smith Barney, was this year's financial services industry honoree. Mr. Neil Cole, chief executive officer and president of Iconix Brand Group, Inc., was also named an honoree, representing the retail industry. Last night's ceremony also served as the official introduction of recently-named Ronald McDonald House New York Youth Ambassador, Jake T. Austin.
Among the attendees at this year's event were actress, musician and Ronald McDonald House New York volunteer Jill Hennessy; Brooklyn Nets head coach Avery Johnson; Ronald McDonald House New York Vice Chairman Tina Lundgren; Joseph Gromek, president & CEO of Warnaco, Inc.; Louise and Vince Camuto, The Camuto Group; Robert Kapito, president of BlackRock; and Milton Berlinski, The Goldman Sachs Group, Inc.
The 20th annual gala featured a rousing performance by Broadway's Inspirational Voices, an ensemble group of on- and off-Broadway performers who provide spiritual support to children in need through gospel music. The group recently worked with the families at Ronald McDonald House New York on five original compositions, three of which were performed at this year's event.
The funds raised will support the organization's mission of providing temporary housing for children battling cancer and their families while the child receives treatment at one or more of 13 nearby partnering hospitals throughout the city. Ronald McDonald House New York is the largest facility of its kind out of more than 300 worldwide.
To learn more about the House or to make a donation, visit www.rmh-newyork.org.
Source: PR Newswire